There's no denying the benefits of an electric grill. Here are the 15 best electric grills reviewed that promise delicious barbecue flavors.
Do you consider yourself deprived of the tempting barbecue flavors because the small space in your two-bedroom apartment doesn't allow you to add a grill to it?  Maybe you got the space, but are hesitant to spend that big chunk of money on a gas or charcoal grill and the maintenance they need.
Editor's Pick
Don't Miss
Also Consider
Giantex 1350W Electric BBQ Grill Non-stick w/ 4 Temperature Setting Outdoor Garden Patio Camping
T-Fal OptiGrill Stainless Steel XL Electric Grill 6 Servings 9 Intelligent Automatic Cooking Modes...
Char-Broil TRU-Infrared Patio Bistro Electric Grill, Red
Editor's Pick
Giantex 1350W Electric BBQ Grill Non-stick w/ 4 Temperature Setting Outdoor Garden Patio Camping
Don't Miss
T-Fal OptiGrill Stainless Steel XL Electric Grill 6 Servings 9 Intelligent Automatic Cooking Modes...
Also Consider
Char-Broil TRU-Infrared Patio Bistro Electric Grill, Red
An electric grill is a solution to all these concerns, saving you space, effort, time, and cost, it is a great counterpart to gas or charcoal grills. Electric grills are environment friendly and need little maintenance, and allow you to have finger-licking barbecue flavors.
They come in both indoor and outdoor models and have plenty of other features. Even if you are convinced of the perks of using an electric grill, choosing one can be a hassle on its own. You are spared of that as well!
Doing all the necessary research and effort, this article has the 15 best electric grills reviewed, waiting to be chosen by you. Plus, a buying guide and some frequently asked questions to help you make a well-thought-out decision if you are to buy a grill for yourself. The only thing standing between you and undying compliments on your barbecue prowess by your friends is a good electric grill, so choose one and grab all that praise.
Top Electric Grills
1. Weber Q 2400 Electric Grill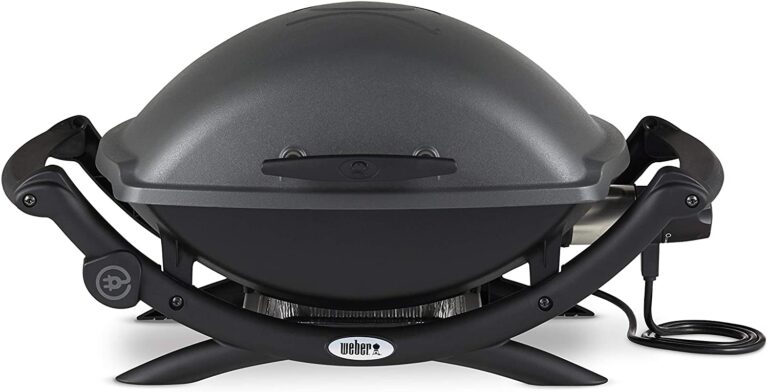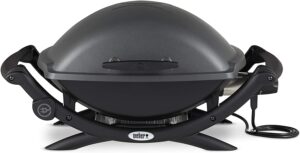 When it comes to barbeque and grills, the name Weber doesn't need any introduction, the company has established quite a reputation by consistently providing quality and innovation through its products. This Q2400 Electric Grill by Weber tops the list of the best electric grills you can get your hands on today. The grill uses high power of 1560 watts, attaining up to 600 degrees Fahrenheit of temperature.
Hence, capable of grilling a large variety of food like steaks, vegetables, pork chops, and fish, within less time and giving a nice sear to the food. The temperature can be controlled through the heat control burner valves to grill at your desired temperature. Equal heat distribution is ensured by the aluminum heat retention liners, cooking the food properly. The cooking area the grill provides is 280 square inches, enough to cook for 4 to 5 people at one time. Despite the large grilling area, the grill has a portable design.
The cast aluminum exterior is lightweight yet robust and durable, able to withstand rigorous outdoor use. I was pleased to find that there was no annoying food sticking to the cooking grates, thanks to the porcelain-enameled cast iron. The grates are also easy to clean and make sure the cooking surface remains rust-free. Though the grates do require careful cleaning, don't use metal tools.
Pros
Lightweight
Sturdy and durable
Easy to hold
Fully assembled
Compact design
Cons
No built-in temperature gauge
On the expensive side
The Weber Q2400 is a bit expensive compared to other electric grills, but I found it hard to consider it as a drawback with the quality and impressive features it offers. The design is compact and provides ease while holding with all the handles. The food quality is undeniably great, with the high power and temp, the temp control feature, and the heat distribution.
2. Power XL Smokeless Electric Indoor Grill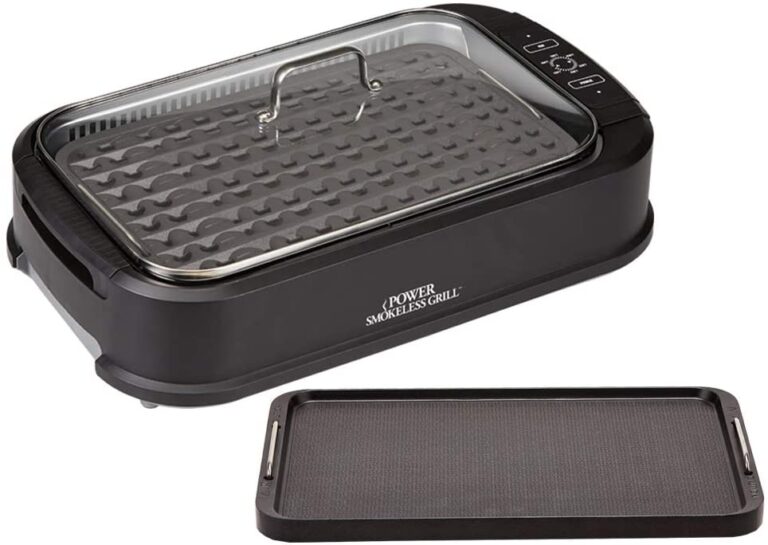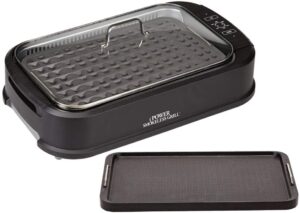 The feature I found most impressive in this Power XL Indoor Electric Grill is that it doesn't create smoke like most indoor grills, which is such relief while grilling indoors. This is done through the built-in turbo extraction fan that captures any smoke created and gives a smokeless indoor grilling experience. The fan is there but it doesn't turn on automatically, you might wonder why, well, I did too. That's because you might want to steam your food sometimes, with the fan on, that won't be possible, so it's up to you to have it on or off.
This, along with the other quality features, makes the Power XL one of the best electric grills available. The lid is sealed tightly so the moisture doesn't leak and the food continues to be cooked properly. Flipping the food is easy because of the non-stick ceramic coated surface, the food doesn't stick to the surface even without greasing with oil.
The oil drip tray down the surface caches any dripping oil from the food. The design is portable, the unit can be stored with all the parts put together. This is especially a plus because the grill comes with many parts. These include a heating unit, a collection tray, a water pan, a grill plate, a griddle plate, a lid, and the power cord, then there is also a base that holds all these parts. Like I said, a special plus that the parts can be stored together.
Pros
Smoke-free grilling
Tightly sealed lid
Portable
Easy to store
Cons
Lots of parts to clean
No built-in temp gauge
The Power XL is one of the best smokeless grills out there, this makes it particularly the best option for those living in apartments. The maximum achieved temperature is 450 degrees Fahrenheit, with no built-in temperature gauge though, a downside. The indoor Grill comes with a lot of parts, does not create a storage problem but each of these parts does require cleaning though.
3. Kenyon All Seasons Electric Grill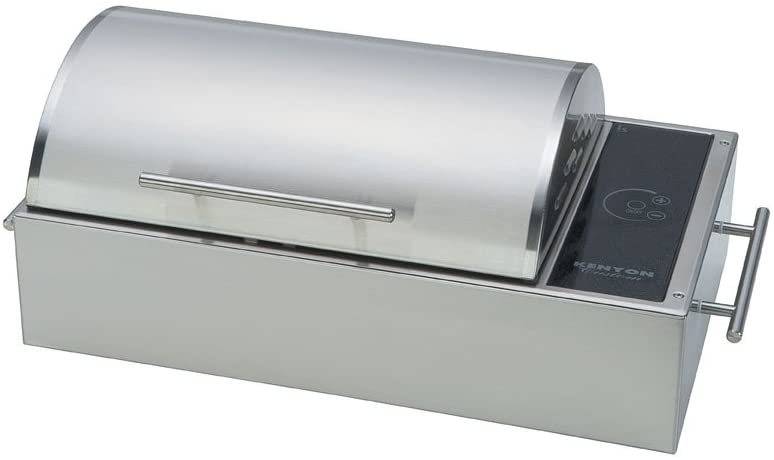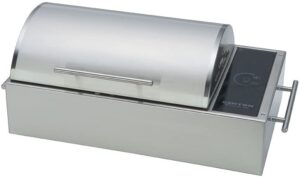 The attractive sleek design of this Kenyon Grill instantly catches my attention, and I didn't find the looks deceiving. The price tag of this All Seasons Portable Electric Grill is high but the performance is certainly up to the mark as well. The material used for this attractive design grill is stainless steel, highly durable, highly resistant against corrosion.
Stainless steel also makes the grill able to reach a high temperature of 600 degrees Fahrenheit in just 10 minutes, with no need for a lengthy pre-heating phase. The lid and grill grate are dishwasher safe making them easy to clean and safe. This Kenyon All Season Electric Grill makes an equally well-performing indoor grill as well.
This is because of the concealed heat element of the grill. This eliminates the chances of smoke and flare-ups that can be caused by exposed heat elements in electric grills due to the food dripping on them. So, this grill is suitable to use indoors, plus the heating element in close contact with the cooking surface also accounts for efficient grilling of the food.
Pros
Stainless steel construction-durable and corrosion-resistant
Heats up quickly
Suitable for indoor use as well
Dishwasher safe parts
The cost of this high-end electric grill really isn't a downside for you if you are willing to invest in longevity and quality performance, these features make this grill worth the cost. Your desire to enjoy a grilled barbeque in rain will not be confined by the weather, since this Kenyon Electric Grill is approved to use indoors as well.
4. Techwood Electric BBQ Grill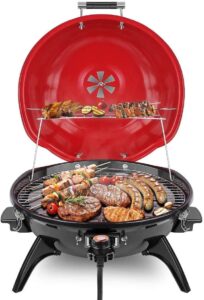 This Techwood Electric Grill is spacious enough to grill for a small group of friends or your family. The grill grates are porcelain-coated cast iron giving nice sear marks to the grilled food because of the heat retaining ability of cast iron. The grates are also rust-resistant, just make sure you don't use metal over it for cleaning, so the coating remains intact.
There is a foldable grill just above the grill grates that stores the food and keeps it warm in the heat. The rotating venting system on the lid ensures the heat spreads out efficiently out of the grill, the lid also ensures that the heat is evenly distributed to the food inside the grill, and remains juicy. This electric grill is apartment approved, with it, you have no chance of smoke or flare-ups, making it a great option for apartment dwellers.
Handling the grill is easy and safe with the insulated handles at the sides, which remain cool hence safe to handle with bare hands. The temperature is easily controllable with a temperature control knob and can be adjusted between 200 degrees Fahrenheit to 425 degrees Fahrenheit. The unit is easy to carry and provides stable support on the ground or table. so the grill can be carried out to picnics and campings as well as used for indoor and outdoor barbecues.
Pros
Rotating venting system
corrosion-resistant grill grates
Nonsticky grates are easy to clean
High heat retention-heats up quickly
Cons
No temp gauge
Parts need to be disassembled for cleaning every time
This Techwood Electric Grill makes one of the best indoor and outdoor electric grills, equipped to be used in small space apartments as well as out in the picnics and campings as well. Except that it doesn't have a temp gauge and that the cleaning process can be lengthy, I didn't find any other downside regarding the performance of the grill.
5. Char-Broil TRU-Infrared Patio Bistro Electric Grill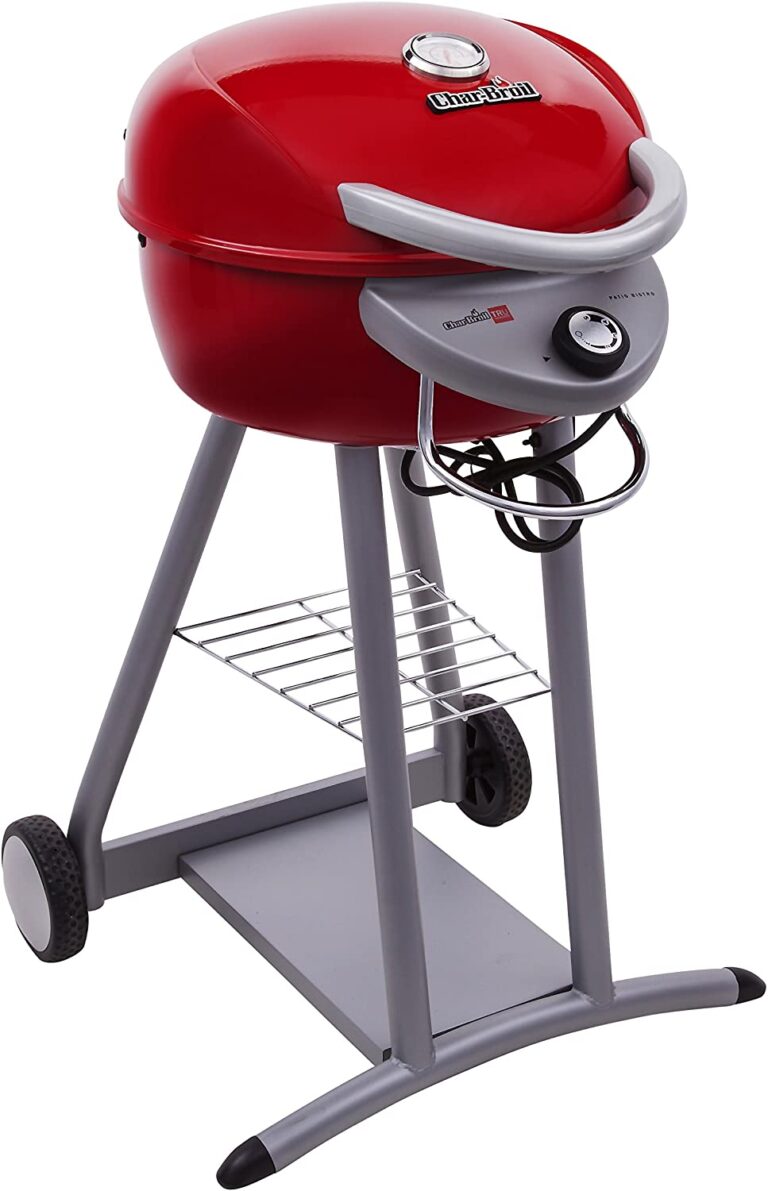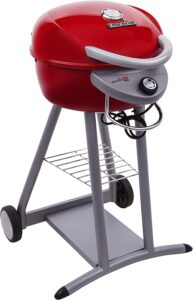 This Char-Broil TRU Infrared Electric Grill is a great outdoor grill but has a compact design that also allows easy mobility, due to the two wheels at the base. The most prominent feature of this electric grill is that it uses infrared technology to heat the food. The heat produced is uniform, evenly spread, and reaches the food directly rather than heating the air first, without stripping the food from its natural juices.
The cooking area is 240 square inches, which proves to be spacious enough to cook up to 12 burgers at a time. There is an 80 sq in. extra removable rack as well, above the grilling surface. It can be used to keep the food warm or cook in indirect heat, enlarging the cooking surface to 320 sq in. The grill grates are porcelain-coated cast iron, non-sticky and rust-resistant. It comes with a built-in temperature gauge on the lid as well, so you can easily keep the temperature in check. An extra rack under the grill helps you keep the cooking tools handy.
An aspect that, to my surprise, I found amazing in this electric grill is the delicious smoky flavor the grilled food gets. This isn't something that is present in electric grills but an incredible perk that Char-Broil Electric Grill offers. The food juices that drip on the heating element create the flavorful smoke. not just that, you can place wood chips on the grill grates for a near-to-smoker smoky flavor to the food.
Pros
Lid-mounted temperature gauge
Gives a nice smoky flavor to the food
Uniform, even heating with the infrared tech
Keeps the moisture locked-in in the food
Cons
No side handles
Not for indoor grilling
You see why this Char-Broil Electric Grill has to be included in this compilation of the 15 best electric grills. Packed with great features, this grill also performs well as a smoker, not like a dedicated smoker, but the smoky flavor of the food is surprisingly impressive. Side handles could have been convenient though.
6. Giantex Electric BBQ Grill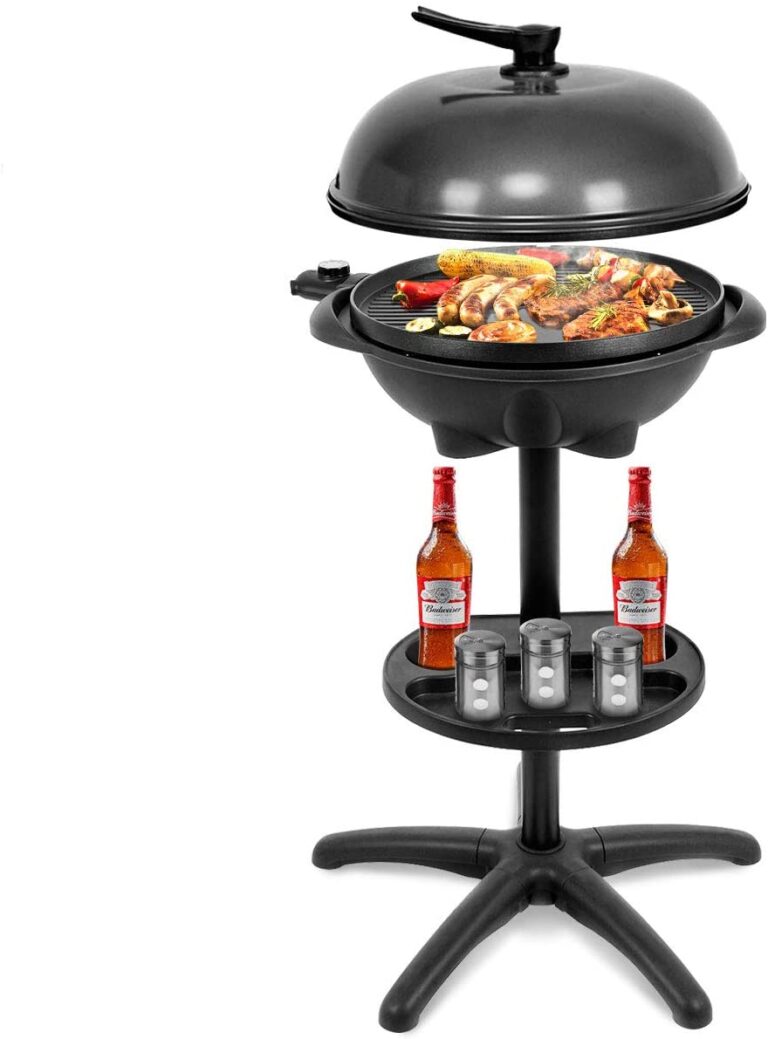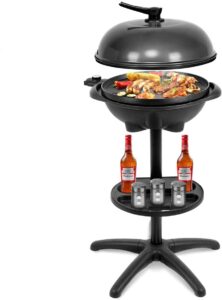 This Giantex Electric Grill can be used both as an indoor and outdoor grill with a 5 feet removable stand. The cooking surface of this grill is divided into three sections, so you can grill three different types of food at one time. The cooking surface also has a non-stick coating, preventing the food from sticking to it, making flipping and removing the food easier.
It comes with a condiment tray at the middle of the stand, to place the seasonings and grilling accessories within easy reach. The tray rotates at 360 degrees, which is super convenient while reaching for spices and the tools placed on it. There is a movable bowl just under the cooking surface to collect any oil while cooking so the grilling area remains clean.
Another feature that I found of great convenience in this grill is the detachable temperature regulator and indicator. There is no chance of the grill getting too heated up since you can set the temperature you want and you will be indicated once that required temp is reached, stopping the heat up there, hence the ensured safety. The 5 feet height of the stand is appropriate and easily accessible, the support it provides is strong and sturdy. Holding and carrying the unit is easy and safe with the insulated handles.
Pros
Temperature regulator and indicator
Offers both indoor and outdoor use
Rotating condiment tray
Strong and supportive five feet stand base
Cons
No temperature gauge to measure temperature at the moment.
This Giantex Electric Grill offers great indoor and outdoor use, the removable stand gives strong support and the height gives easy access. The consignment tray is rotateable, to keep the seasonings and tongs within comfortable reach. The cooking area is high-quality and non-stick, divided into three distinct sections.
7. T-fal OptiGrill XL Electric Grill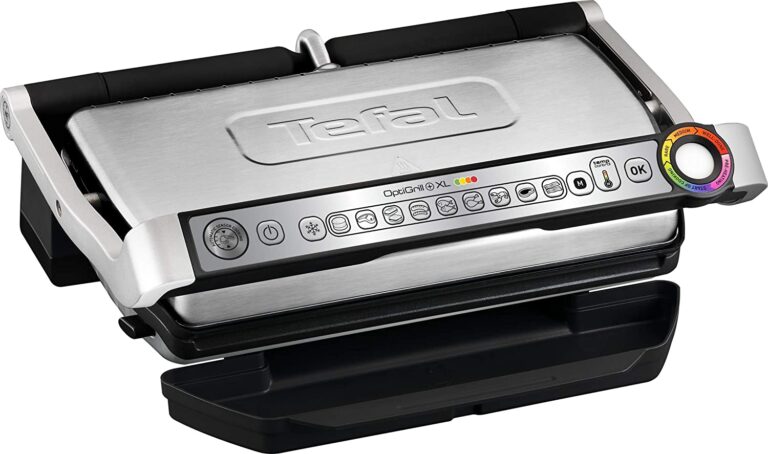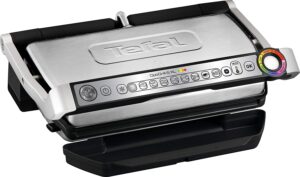 The OptiGrill XL is practically stuffed with a number of incredible features that make it inarguably one of the best electric grills out there. The Grill is a great value for money, and no, not exaggerating at all. The first one of the awesome features is the nine different automatic cooking programs designed specifically for different types of food. These include burgers, sausage, bacon, fish, poultry, sandwiches, pork, red meat, and seafood, which is almost everything. Specifically designed modes mean that the food will be grilled to perfection, with little effort from your side.
You can also cook the food directly out of the freezer with the frozen food mode in the grill, while the manual mode grills fruits and vegetables with four adjustable heat settings. The precision grilling technology in the grill features a colored cooking level indicator. Yes, I'm talking about grilling the steaks for your family members just the way each one of them likes! The colored indicator will glow just when the individual serving has cooked to the desired level, serving precisely the desired doneness of the food.
There are automatic sensors on the grill that sense the thickness of the food when placed over and sets the cooking time accordingly. There is a drip tray at the front of the grill that catches the dripping oil and grease. The grilling surface is non-stick so no extra oil is required, the food can be flipped and removed easily, the cleaning is also made easier.
The grilling planes are detachable hence can be cleaned easily and can be stored with your other dishes. The construction uses stainless steel, durable and rust-resistant. The clamshell design is sleek and stylish, the two grilling plates are strongly connected with a handle. The handle also acts as a control panel with all the buttons and settings located on it.
Pros
Nine different cooking programs
Precision grilling technology
Frozen food mode
Automatic sensor
Easy cleaning
Cons
1-year warranty only
More expensive than other countertop grills
Unfortunately, the grill comes with a short warranty of only a year. As for the price, a downside, yes, but the product offers the best value for money. Performance-wise, the grill is incredible, with so many innovative and automatic features. Certainly one of the best electric grills available.
What to Look for in an Electric Grill-Buying Guide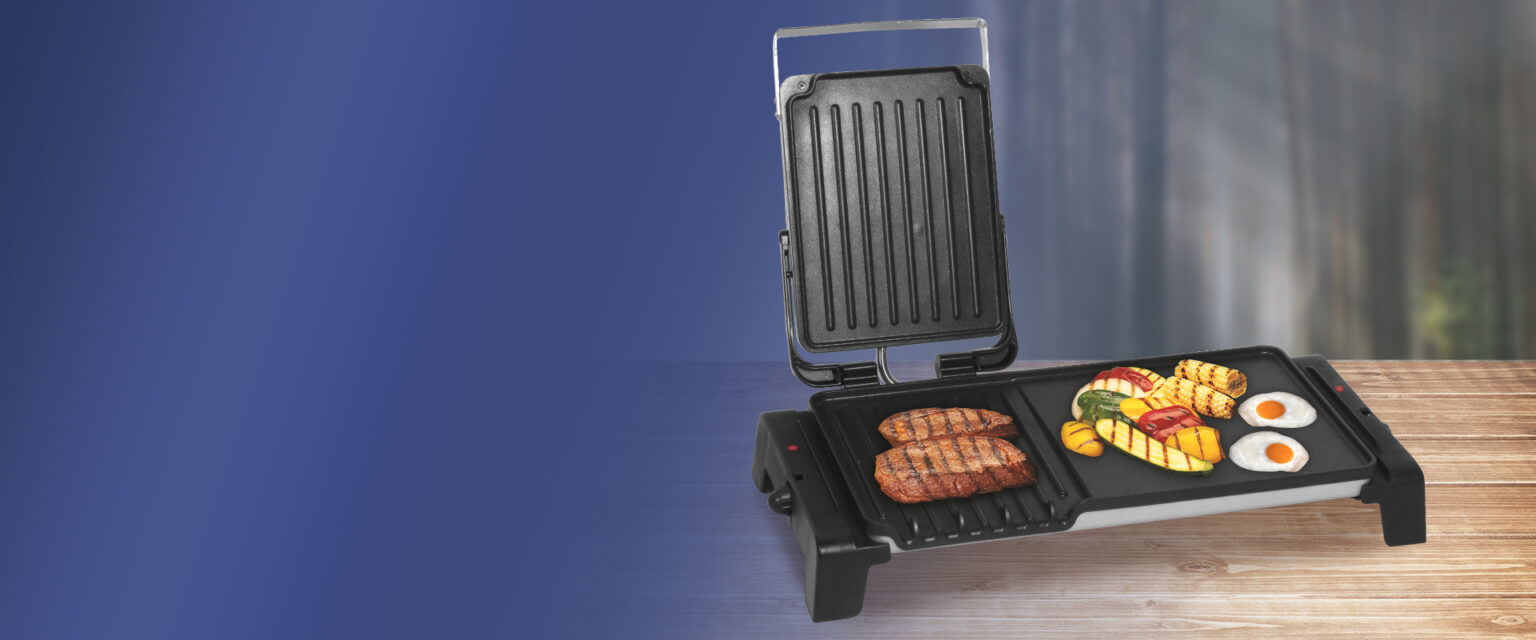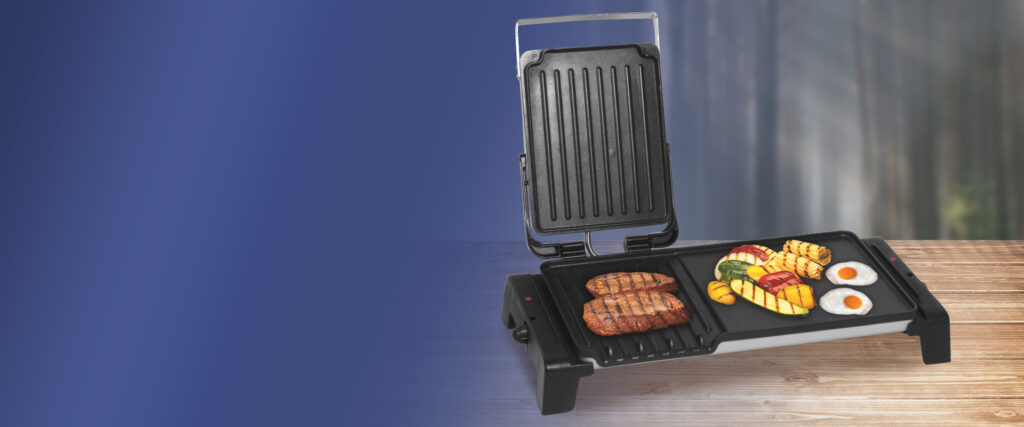 There are no doubts about the preference for electric grills over charcoal and gas grills. The development of those has saved a lot of time and hassle, unlike gas and charcoal grills, not to mention the enhanced functionality of electric grills. The convenience, ease of use, and the fact that they can also be used indoors with their compact and portable design have them win over in the debate.
There are a few factors though, that can make you settle over one electric grill rather than the other. The variations and differences in different models can render one more favorable to you than the other ones. Here is a buying guide that mentions those features of electric grills that vary from model to model. The decision is up to you of course but you need to decide what you need first, which, hopefully, you would have had by the end of this buying guide.
Type-Open and Contact Grill
There is not some drastic difference between the performance and flavors that open grill and contact grill delivers, but there are a number of differences though. You have to choose what features you prefer. What sets both of these apart is that open grills have a single grilling plate, which is usually large, where you place and grill your food. You flip the food when one side is cooked and then cook the other side. They have lids, which when closed, captures the created smoke inside the grill, making it come in contact with the food to make it juicier and tender.
Contact grills, on the other hand, cook the food while being in complete contact with it. There are two grilling plates, one where the food is placed, the other which acts as a lid but presses against the food. Hence the food is pressed against on both sides, this allows for better distribution of heat, cooking the food evenly, more so than in open grills.
The cooking time also varies, contact grills need considerably less cooking time, half of what is required in open grills. That's because in open grills you have to wait for one side to be cooked so you can flip and do the other. In contact grills, both sides are pressed by grilling plates, grilling both sides quickly, at the same time.
Cooking area
The requirement of the right cooking area is not difficult to understand, but it is an extremely important factor to consider while buying an electric grill. You wouldn't want to keep your guests waiting for long to be served. Neither would you want to waste money on a large grill half of whose cooking space you wouldn't even use, not to mention the storage space it will need.
There is nothing wrong or right to be suggested about the size, only what is your requirement. There are so many options about the size when it comes to electric grills. Normally, the cooking surfaces in the grills range from 60 to 200 sq. A few models have even more than that, like Char-Broil Patio Bistro Electric Grill, with 240 sq in grilling area, reviewed above. A grilling surface of 80 sq in is enough for a couple, that of more than 100 sq in is suitable for a small family, of 3 to 5 members. For larger families or parties, opt for grills with large cooking areas, so you can cook a large quantity of food at one time.
The right grilling surface for you also depends on whether you are to do outdoor grilling or indoor grilling. Outdoor grills are more spacious, consume more space as well, they are standing models mostly, cooking for around 10 adults at a time. Indoor grills are countertop models, mostly preferred by apartment dwellers, suitable for 4-5 family members or a couple. Some grills also come with a removable stand, making tabletop grills as well as outdoor grills
Wattage and Temperature
The wattage or power the electric grill is able to consume will determine the temperature it can reach. The higher the temperature the quicker the grill will heat up and cook the food, also, more evenly the heat will be distributed. The ideal range of wattage in electric grills is 1300 to 1800 watts, grills having wattage less than that will not be able to cook thicker pieces of food efficiently.
Most indoor electric grills are around 1200 watts, while larger ones can be around 2000 watts. The grills that are not so expensive can be around 800 watts, which is certainly not ideal for high-heat grilling. So, if you like high-heat cooking, go for a grill that is powerful, has a high wattage, and can reach high temperatures. If you prefer moderate or low-heat cooking, choose accordingly.
FAQs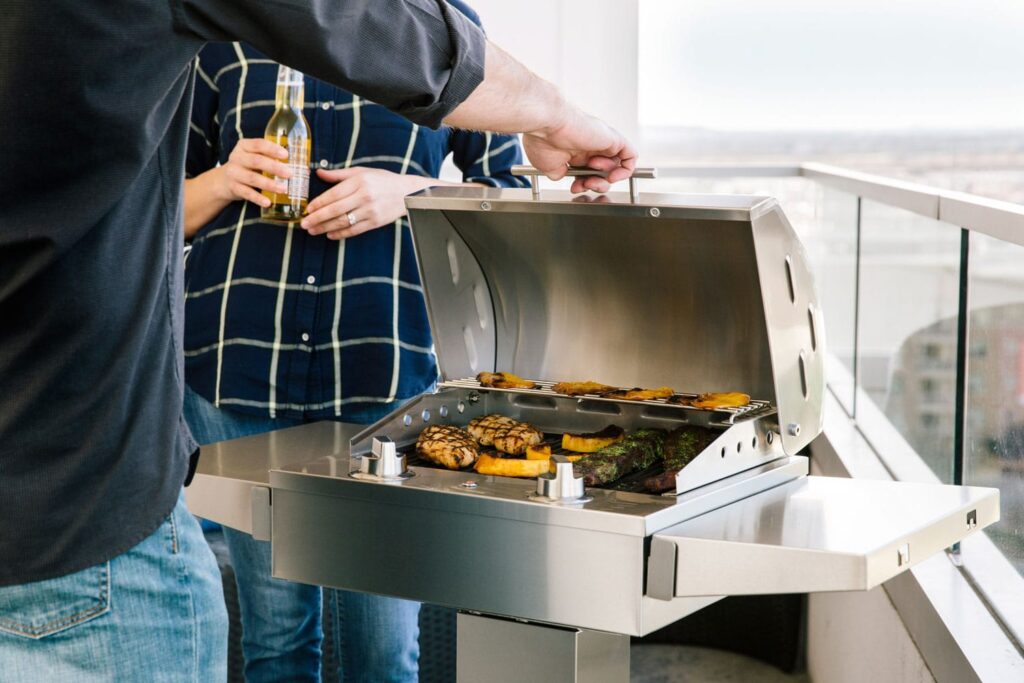 Are electric grills any good?
There are many benefits of using electric grills over gas or charcoal grills. They are easy to use with no need to fiddle with coals or flame. From the health point of view, you are on the advantage as well, electric grills offer healthier ways to grill compared to the gas or charcoal grills. They don't produce harmful gas fuels that can be bad for your health and the environment.
How do you clean an electric grill?
Easy Cleaning is another big perk of using electric grills. Unplug the grill first, let the grilling grates cool down, and remove them to wash if they are removable. Wash the grates with soap and water normally like you would wash some ordinary dish. The grates of some electric girls are also dishwasher safe. Dry the grates completely before using them again.
Is it easy to use an electric grill?
Electric grills are really easy to use as compared to gas or charcoal grills. You just need to plug the grill in to use it, whereas with gas or charcoal grills you need to ignite the fire with propane or charcoal. Some electric grills have features like non-stick coatings, removable grill grates, that are also dishwasher safe. Hence remarkably easy to maintain.
Final Words
This article can save you the exhausting hunt to find the best electric grill for yourself because that has already been done on your behalf. The compilation has the best 15 electric grills available on the market, all having different, yet impressive, features to suit your different demands and needs. The top three picks are:
Weber Q 2400 Electric Grill because of the incredible food quality it delivers and high durability.
Power XL Smokeless Electric Indoor Grill because it's ideal for indoor use, allows smoke-free grilling.
Kenyon All Seasons Electric Grill because it's suitable for both indoor and outdoor use and is incredibly durable.
Along with that, there is a buying guide to inform you about the important factors to look for in an electric grill. The shortlisted models of electric grills here have varying qualities, to suit the users' varying needs. One feature that all of these promises is the uncompromised food quality, and this is the one thing that will keep people talking about the scrumptious barbecue they had at the party you hosted.
If these weren't enough, check out these electric grills from Amazon also: