Buying the best grill for BBQ can be a bit overwhelming due to the availability of so many brands manufacturing these grills. But two companies that have a standard reputation of quality grills are Rec-Tec and Traeger. Over the years, these brands have proved to be the best on the market, but which one should you go for? We are here to help you with that by making a detailed comparison of Rec Tec Vs Traeger Grills.
Image
Name
Z GRILLS Wood Pellet Smoker Grill, 8 in 1 BBQ Grill for Outdoor Cooking, Auto Temperature Control,...
Traeger Grills Pro Series 780 Wood Pellet Grill and Smoker with WIFI Smart Home Technology, Bronze,...
Fuel Type
Electric, Liquefied Petroleum Gas
Item Dimensions
48.7 x 26.7 x 54.4 inches
Image
Name
Z GRILLS Wood Pellet Smoker Grill, 8 in 1 BBQ Grill for Outdoor Cooking, Auto Temperature Control,...
Fuel Type
Electric, Liquefied Petroleum Gas
Both of these companies are known for using wood pellet grills, which makes grilling so much easier due to digital temperature control. So now you don't have to worry about running out of fuel or over smoking meat as you can smoothly control the temperature. In this post, we compare these brands thoroughly in terms of the technology they use and the other useful features.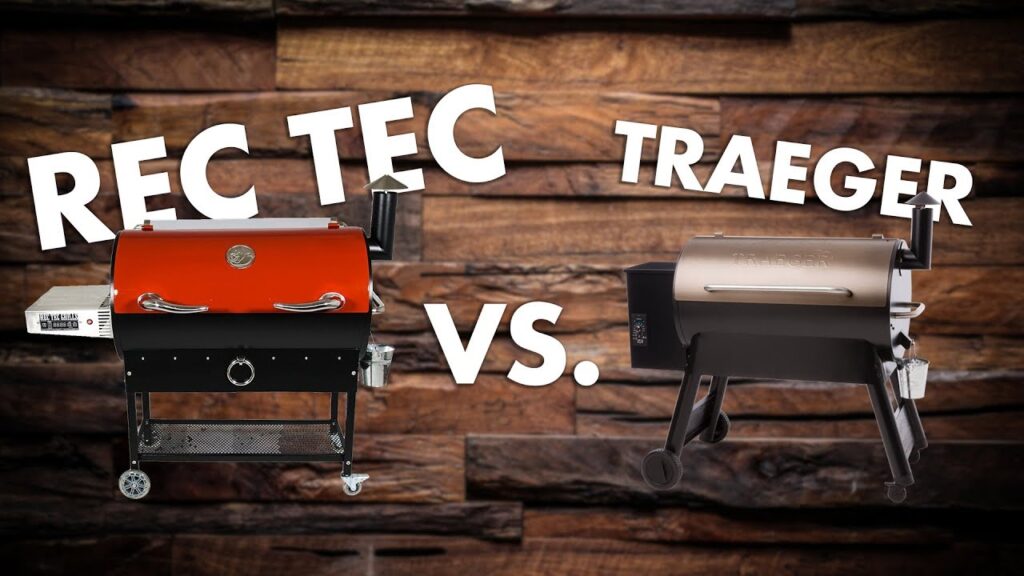 Rec Tec Vs Traeger Grills – Which Is Better?
Here is detailed comparison of both Rec Tec and Traeger Grills.
Rec Tec Grills
The Rec Tec is a fairly new company that was established in 2011. The focus of this company is to use smart and innovative technologies to make it stand out from the rest of the brands. All Rec Tec products make use of high-quality materials so that they can last longer.
The advanced temperature control system of Rec Tec makes their pellet grills unique. The temperature range offered by these grills is 200 to 500 degrees, which is more than that provided by Traeger. Moreover, special technology makes sure that the outside weather changes do not affect the cooking process.
Another noticeable thing about Rec Tec is that it offers several accessories, which allows you to use the grill to its maximum potential. So it completely makes sense why people are attracted to this particular brand of grills.
Traeger Grills
Traeger is one of the first pellet grill manufacturers, and they are the ones who introduced the temperature control system in these grills. So it is safe to say that Traeger has gained a lot of experience over the years and have perfected their temperature technology.
This brand has a large variety of pellet grills that come in all sizes and price ranges. With the availability of so many budget-friendly options, Traeger has become quite popular among its users. It has started incorporating advanced features in its models, such as Wifi, to make grills more user-friendly.
Trager is also well known for its amazing customer service, which is always available to help fix problems. Their products are available on Amazon, so anyone could easily buy them. It has several grill lines, and each one has something special to offer, which makes Traeger so versatile.
Read Also: Traeger vs Pit Boss Comparison – Which one is Better?
Comparison Of Rec Tec and Traeger
To find out which pellet grill is the best, we must look at the performance features of these brands. Explained below are some important aspects of pellet grills that can give you an idea about which may be better for you.
Grilling Area
The grilling area is one of the most significant features when it comes to comparing grills. It is measured in square inches and tells you how much food you can grill for a group of people. So you must give major importance to this feature when looking to buy grills.
The larger the total grilling area, the more food you can cook on it and serve to your friends and family. Traeger is known to offer large grilling area in their products. One of their products, namely the Timberline 1300, offers a total cooking space of 1300 square inches to accommodate more than 20 burgers.
As compared to that, the largest cooking area Rec Tec can provide is 700 square inches, which is comparatively less than Traeger. So in terms of grilling area, Traeger is better than Rec Tec for people looking for a massive grill that cook a lot of food.
But there are also smaller sizes available in both brands for a family of two, and those are much cheaper than the large grills. The smallest Treger grill has a grilling area of 300 square inches, whereas the smallest Rec Tec grill has a cooking area of 340 square inches, which is a small difference.
Customization
Both Rec Tec and Traeger products are well constructed and use the top quality materials that can last longer. Traeger offers a wide variety of features that makes grilling quick and enjoyable. It does not offer customization for its products, which may be fine for people who want to grill meat.
But for grilling enthusiasts, the Rec Tec offers customization for several components and useful accessories that can be quite beneficial. You can buy searing kits and extra shelves that can be used with the main grill to make grilling more exciting.
Temperature Control And Range
Traeger is well known for introducing a digital temperature screen, which makes it easy to keep track of the cooking progress. One of the Traeger lines has a special feature that quickly reheats the grill if you have opened the hood of the grill. The highest temperature that can be used in the Traeger grills is 400 degrees, whereas, with Rec Tec, you can achieve a maximum temperature of up to 500 degrees.
So in terms of temperature range, Rec Tec is one step ahead of Traeger as it can maintain a high temperature in the grill. Rec Tec also uses Smart grill Technology, which maintains the same temperature throughout the cooking process. Once you set a specific temperature, it won't deviate from that unless you change it yourself.
Moreover, you can also increase the temperature with the help of the five degrees increment feature. The temperature in Traeger pellet grills can fluctuate sometimes, but that can be avoided if you follow the preparation steps properly. So Rec Tec is slightly stronger than Traeger when it comes to temperature range and control.
Warranty
Warranty is another important aspect of grills that can play a huge role in deciding whether to buy the grill or not. Rec Tec provides a 6-year warranty on all its grill components, whereas the Traeger provides a 3-year warranty.
Rec Tec clearly has a long warranty period than Traeger, which can be quite appealing. Having a large warranty period gives a sense of protection for the money that you are going to be investing in the product. But fortunately, both of these brands have quality products that have proved to be quite durable in the long run.
Portability
Portability is another great thing to consider in grills as it can make your task much more simple and easy. Both Rec Tec and Traeger grills offer amazing portability for its products, so you can easily move the grill carts.
For people who are too worried about space, Rec Tec offers grills that having folding legs, so when you are done with cooking, you can fold them to be one the move again. As for Traeger, most of their grill carts can be removed if you want to place it on a surface without needing the cart.
Rec Tec RT-700 Grill
The Rec Tec RT-700 is a high-quality wood pellet grill that has medium dimensions, which allows it to occupy less space. Moreover, all the components of the grill are composed of durable hard duty metal, which makes for a solid finish. The sleek design of the grill makes it look stunning.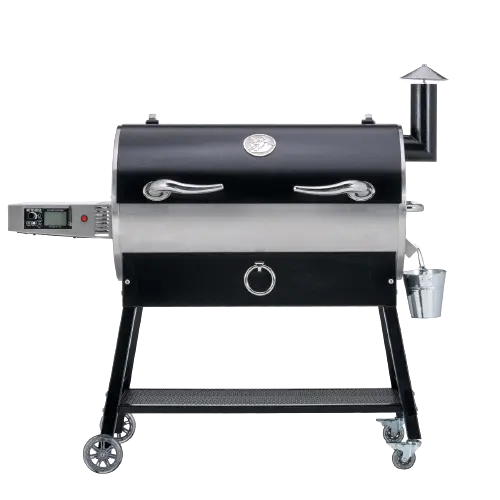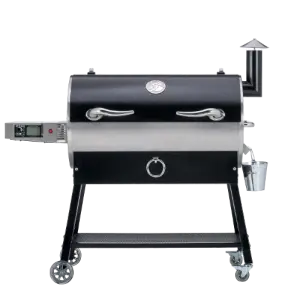 The interior components and the grates are made of stainless steel, which makes cleaning so much easier and simple. The grill offers a grilling area of 700 square inches that can accommodate several burgers. The grill also has a large hopper containing 40 pounds of wood pellets that can last a long time.
The best thing about the RT-700 is the built-in WiFi support, which allows you to connect the grill to the Rec Tec mobile application. By using this app, you can monitor the cooking remotely without having to physically check the grill. In this way, you can relax and rest for a bit when the food is being cooked.
Pros
Height is perfect
Cleaning is easy
FDA approved stainless steel used
Attached side panel for extension
The grill has an automatic ignition system that fires up the grill and lights the wood pellets. So most of the small tasks are automated in this grill that saves you a lot of time and makes it easy to use. The smart technology used in the grill smoothly maintains the temperature throughout the grilling process, which allows for fast cooking. The Rec Tec RT-700 is one hell of a grill that makes grilling easy and fun.
Traeger Pro Series 780 Wood Pellet Grill
The Traeger Pro Series 780 comes with improved technologies and useful features, making the grill quite easy to use. It is a versatile grill that allows you to bake and smoke food as well. The grill is well designed, which makes it look appealing.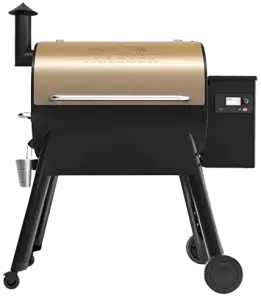 It offers a total cooking area of 780 square inches, which is a little more than the one offered by RT-700, and therefore, you can squeeze in some extra meat. The WiFi support provided by this grill allows you to access Alexa and control the grill using voice, which is pretty handy.
The advanced D2 technology used in this grill maintains the temperature nicely and offers a better taste. The best thing about this grill is that it comes with straightforward yet simple instructions that are easy to follow. And you are done with assembling the grill within an hour, which is pretty quick.
Pros
Large cooking area
Easy to assemble
Versatile in cooking
Maintains temperature
Offers quick connection
Another good thing about this grill is that it heats up quickly, so you don't have to wait too much for the temperature to start rising. It quickly connects to your home wifi without making you wait. The easy to use controls and the remote monitoring of the Traeger Pro Series 780 makes it worth buying.
Don't miss this comparison video:
Wrapping Up
Traeger has years of experience in constructing pellet grills; that is why they have a large number of products available. Their products are quite easy to assemble, and they heat up quickly. All these things make Traeger a well-reputed brand.
On the other hand, Rec-Tec is a new company but has quickly built its reputation due to quality materials and innovative technology. Rec Tec has proved to be better than Traeger in many areas, but it lacks variety. So both are top grill brands worth checking out.
Also Visit