Nothing can beat the taste of smoked meats, especially when it comes to super tender and extra juicy smoked ribs you can't keep your hands off. There are numerous styles and techniques to prepare the ribs, but the smoked ribs are more delicious, mainly if an electric smoker makes them. Here we described how to smoke ribs in an electric smoker easily.
Electric smokers are convenient, safer, spacious, and portable. Set the timer and temperature to your desired settings. You don't need to check the heat and time regularly; the unit will automatically shut off. The electric smoker will let you make finger-licking smoked ribs with much less hassle and mess.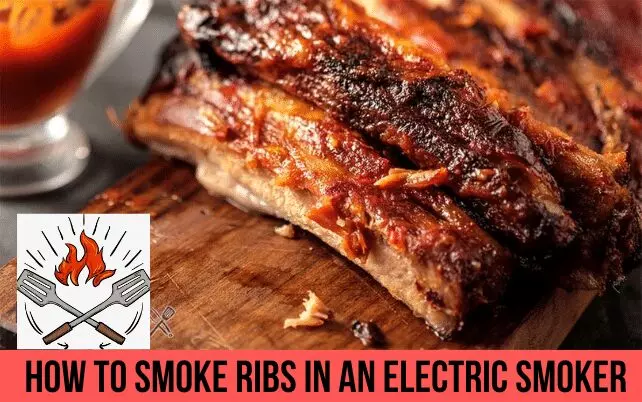 Choose the right type of Rib
You surely want Your ribs to be the most attractive honeypot of your entire table so choose the right cut of ribs. There are different types of ribs. Selecting the correct kind for your taste will enhance your smoked rib experience.
Baby back ribs
Baby back ribs are a popular rib cut, perfect for backyard BBQ. The baby back ribs come from the back on either side of the spine. Baby Back Ribs are leaner, more tender, and contain high-quality meat.
Spare ribs
Spare ribs are not as meaty. These ribs only keep a bit of the meat, so it takes less time to cook them.
St. Louis Style ribs
St. Louis Style ribs are ribs that are closer to the belly. They are from the same cut as spare ribs but more uniform in shape. The meat has more fat than baby back ribs. They are thinner and flatter and can cook to perfection.
Preparation for super juicy smoked ribs is super simple and needs less time. To save some of your time, prepare the ribs the night before you wish to make them. It will not only save your extra minutes but also let the ribs soak up more flavors.
Start with removing any unwanted fat and silver membrane. Make sure you don't remove any fat between the bones because by doing so, the smoked rib will be less juicy. Removing silver skin is a little tricky; it needs some practice and patience.

Season the rib
When you season the rib, avoid adding too much of the spices and flavours. Keeping it more simple and basic can also yield a finger-licking smoked rib. Overdone flavouring and seasoning can drown out the actual natural flavour of ribs. They taste equally better with sauce or no sauce.
Rib rub
The smoked ribs are standalone when it comes to taste, aroma, and look; they don't need extra to enhance the smoky experience. You can buy ready to use rib rub or create your perfect blend of spices. There are several choices you can make, use different herbs, and try out new things. You should keep in mind that too much-added flavours will overpower the meat
Juice and butter bath
In the middle of the smoking, the process gives your ribs juice and butter bath to make them extra juicy and tender. Adding some apple cider and butter while ribs are in the foil helps to keep them moist. You can also use some apple juice instead of apple cider.
BBQ sauce bark
A crunchy BBQ sauce bark goes perfectly well with mouthwatering smoked ribs. When ribs are near to cook, take them out. After applying a thin layer of sauce, put them back to smoke for a couple of minutes. When the sauce becomes thick, the rib is ready to serve. If you want an extra crunchy crust, apply a second layer of sauce and cook for more than fifteen minutes.
Prepare your Electric Smoker
Before starting, spray a fair amount of vegetable oil on the grills. It will prevent the ribs from sticking to the grills. Preheat your electric smoker for 15 to 20 minutes to 225 degrees Fahrenheit or your desired temperature. Place your wood chips in your electric smoker.
The right kind of wood chips will give the correct type of smoke flavour that will not overpower your ribs. It would be best to choose lighter woods or fruit woods instead of more decadent smoky wood chips for a more delicate flavour.
Some best wood chips to smoke are hickory, oak, mesquite, grapevine, apple, pecan, and cherry. Some worst wood chips to smoke ribs are elm, cedar, cypress, pine, fir, spruce, and eucalyptus. It would be best if you don't consider them.
3-2-1 smoking method
Once you finish the rib and electric smoker preparation, you will be using the 3-2-1 smoking process to smoke your ribs. Although the whole process takes a lot of time, full of smoky flavour, fall-off-the-bone ribs will be more than worth the wait.
3-Smoking
Put the seasoned ribs in a preheated electric smoker. Place the rib's bone side down so that the meaty side gets more smoke exposure. Smoke the ribs for 3 hours.
2-Wrapping
Lay down the large sheets of foil. Place the ribs on foil with the meaty side facing down. Pour over the cider and butter mixture. After wrapping the ribs tightly, place it back to the smoker to smoke for 2 hours.
1-Finishing
When smoked ribs are ready, take them out of the smoker and leave them for at least 10 minutes. If you want a BBQ bark, apply a fine layer of BBQ sauce on the ribs. Smoke them for 10 to 15 minutes or until set. If you want it to be more crunchy, repeat it for a second time.
Ingredients
For the rub:
1 1/2 tbsp ground black pepper or white pepper

1 tsp salt

2 tbsp onion powder

1 tbsp Paprika

1 tbsp garlic powder
For the bath:
2 tbsp brown sugar
2 tbsp apple cider vinegar
1/4 cup apple juice or cider
4 tbsp of butter cubed
For the Ribs:
One rack baby back ribs
BBQ Sauce
One cup apple cider vinegar
One cup ketchup
Four tablespoons mustard
Four tablespoons dark brown sugar
Two teaspoons sea salt
Two teaspoons coarse ground pepper
Three tablespoons honey
One teaspoon Worcestershire
Instructions for cooking Smoked Ribs in Electric Smoker
Rinse the rib, pat dry with a paper towel, and remove the membrane from the ribs
Mix all the rub ingredients and completely cover over ribs.
Refrigerate for 4 hours or overnight
Soak wood chips in water for 1/2 hour.
Preheat wood chips in the preheated smoker to 225 degrees Fahrenheit.
Next, take out the ribs from the refrigerator, leave them at room temperature for 30 minutes.
Add water to the drip pan to half full.
Place the seasoned ribs on the smoker for 3 hours.
After 3 hours of direct smoking, place the ribs on large foils, and add some butter and apple cider mixture.
Wrap the ribs tightly in aluminum foil.
Then cook in foil for another 2 hours.
Open foil and leave it for 15 minutes.
Serve and enjoy
Watch this video for some additional tips:
Visit Also
How To Smoke A Whole Chicken In An Electric Smoker