Are you a fan of those smoked chicken dishes? If yes then you know that a perfectly smoked whole chicken is the real star of the list. The aesthetics of a whole chicken instead of the pieces adds a little something extra to make your dining table look more presentable for your guests. Whether you have a few friends over or you invite your family on a weekend dinner, a delicious whole smoked chicken is a must on the menu.
Are you worried you have no experience with smoking a whole chicken? Well, don't fret about it. That's where we come in. To follow our method, if you have best electric smoker you are good to go. Here, using only a few simple steps you will learn how to smoke a whole chicken in an electric smoker.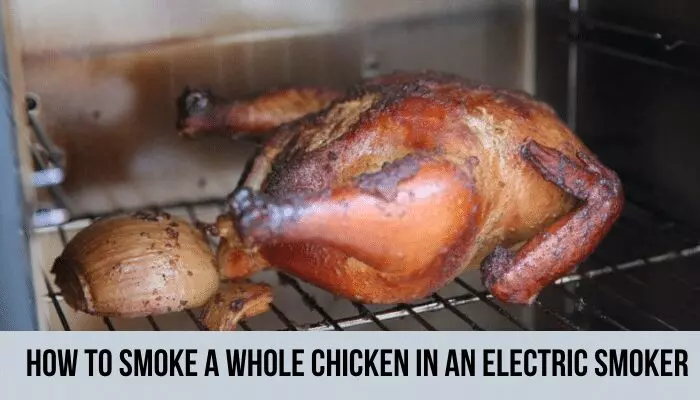 How To Smoke A Whole Chicken In An Electric Smoker
| Details | Quantity |
| --- | --- |
| Cooking Time | 4 Hours |
| Servings Of Recipe | 6 |
Ingredients
For Chicken Brine
8 cups of water
½ cup salt (kosher salt not table salt)
¼ cup honey
3 bay leaves(dried)
5 garlic cloves (peeled and smashed)
1 tbsp whole black peppercorns
3 sprigs rosemary (fresh)
3 sprigs thyme (fresh)
2 lemons (sliced)
3 sprigs parsley (fresh)
4 pounds whole chicken
For Barbeque Rub
½ cup of brown sugar
1 tbsp smoked paprika
1 tbsp black pepper
2 tbsp paprika powder
1 tbsp kosher salt
1 tbsp garlic powder
¼ tsp cayenne pepper
1 tbsp onion powder
1 tsp mustard powder
For Smoked Chicken
4 pounds whole chicken
Parsley or lemon for garnish
Prepared chicken brine
¼ cup of prepared Barbecue rub
Recipe for smoking whole chicken in Electric Smoker
For Preparing Chicken Brine
First and foremost in a large cooking pot add in the water, salt, honey, lemons, parsley, thyme, rosemary, peppercorns, garlic, bay leaves, and cloves and let it heat up on the stove at medium heat.
Continue cooking the ingredients until the salt dissolves. This may take 3 to 4 minutes after which you can turn off the heat and let the ingredients in the pot cool down.
Once the water is cool, place the chicken inside making sure it is completely under the water. Cover this pot and place it inside the fridge for a good 8-24 hours.
After sufficient time, you can take out the chicken for smoking it. The brine makes sure to keep the chicken moist and makes sure to pack in all its natural flavors.
For Preparing BBQ Rub
In a bowl mix together the brown sugar, paprika powder, smoked paprika, black pepper, kosher salt, garlic powder, onion powder, mustard powder, and cayenne pepper. Your mixture is ready.
You can store this rub for up to 3 months in an airtight container until needed. Make sure to keep it away from moisture and direct sunlight.
Read Also: How to Smoke Ribs in Electric Smoker
Cooking Procedure
Set the temperature of your electric smoker at 250 degrees Fahrenheit. Specifically, for chicken, you can opt for apple woods, oak, or pecan for your electric smoker. Maple wood is also a good option when considering smoking poultry.
After resting the chicken in the brine you can remove it and dry it up. Now tie up the legs of the chicken with a string or twine and also fold the wings and tuck them in if you want it to have a neat overall presentation.
Once the chicken is all tied and tucked, place it on an aluminum pan and throw on the prepared BBQ rub onto the chicken. Add a decent amount to make sure you cover every bit and corner of the chicken. Also, fill some of the mixture under the loosened skin of the chicken to ensure it is packed with taste. This will help provide maximum and uniform flavor throughout the dish.
Now place this seasoned chicken onto the rack inside the preheated smoker. Allow it to cook for 3.5 to 4 hours. Insert a thermometer into the thigh piece, which is the thickest part of the chicken, to check the temperature at different intervals. Once the internal temperature of the chicken reaches 165 degrees the cooking time is complete. Make sure to keep a check on the smoker's heat. Replenish the woods after regular intervals to maintain uniform heating of the chicken.
After you take out the smoked chicken from the smoker let it rest for 10-20 minutes. Place it on the dish you will be serving the chicken in. Now add the garnishing like parsley and lemon etc for an appealing presentation and carve the chicken before you serve it to your guests. Your perfectly smoked chicken is ready!
Side Dishes With Smoked Whole Chicken
Sure your scrumptious smoked chicken tastes amazing on its own. But adding the perfect side dish can take your main course to a whole new level of deliciousness. Luckily with the smoked chicken, there are a number of easy-to-cook side dishes that will taste amazing in combination with it. Some of these are as follows.
Crusty Skin Baked Potatoes
Adding a starchy side to your protein will create the ideal balance of flavors. If baked right, the potatoes will be an amazing addition to your chicken. Not only is it sure to elevate the taste of your dish but is also sure to add extra delight for any potato loving foodies at the party.
Butter Green Beans
Grilling some green beans with some garlic and melted butter can give you the most delightful vegetable addition for the smoked chicken. The crispiness of the green beans compliments the tender and moist chicken to give you a heavenly dining experience.
Triple Berry Galette
Who said a dessert cant be a side? This fruit galette made from your favorite berries and some pie dough can be prepared on the grill right after you are done with your chicken smoking. Adding this as a side will give you a sweet touch to your dish hence it is perfect for those that like a little something sugary to go with their spicy meat
Glazed Carrots
Not feeling too fancy? Short on time? Don't worry we have a little easy side dish suggestion too. Glazed carrots may not look like much but using the perfect ingredients and technique your glazed carrots can be the cherry on the top for your main course. Hence add a little brown sugar and parsley to your little carrots. Simmer these in a little water and salt and present a tasteful side dish at minimum cost in no time!
You can also watch the following video for some additional tips:
Visit Also