Pellet and electric smokers are becoming more popular in these modern times, and many barbecue lovers prefer them over offset or charcoal smokers. Both smokers are the ideal option for those who prefer convenience over all else. There are numerous models that offer Wi-Fi and Bluetooth connectivity and permit you to control the temperature of your smoker through your smartphone.
Our Pick
Amazon's Choice
Good Pick
Don't Miss
Also Consider
Smokin-It Model #2 Electric Smoker
Masterbuilt MB20071117 Digital Electric Smoker, 30", Black
Dyna-Glo DGU505BAE-D 30" Analog Electric Smoker
Traeger Grills Pro Series 575 Wood Pellet Grill and Smoker with Wifi, App-Enabled, Black, Large
Camp Chef SmokePro SE 24" Pellet Grill, Black
Our Pick
Smokin-It Model #2 Electric Smoker
Amazon's Choice
Masterbuilt MB20071117 Digital Electric Smoker, 30", Black
Good Pick
Dyna-Glo DGU505BAE-D 30" Analog Electric Smoker
Don't Miss
Traeger Grills Pro Series 575 Wood Pellet Grill and Smoker with Wifi, App-Enabled, Black, Large
Also Consider
Camp Chef SmokePro SE 24" Pellet Grill, Black
The major difference between Pellet Smoker vs. Electric Smoker is their power source. Electric smokers are powered by electricity, and pellet smokers are powered by wood pellets as fuel. A tiny amount of electricity is required to power the fan and grill.
Pellet Smoker vs. Electric Smoker: Similarities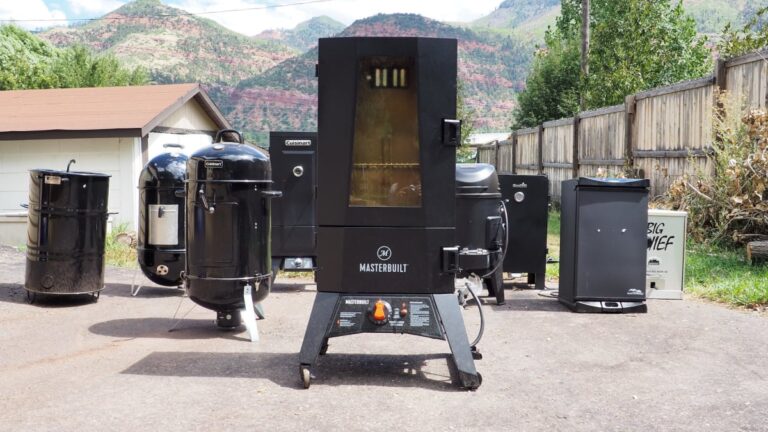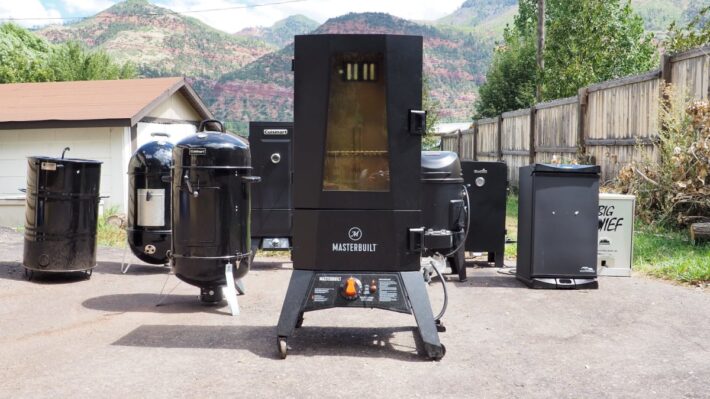 Many people confuse pellet grills with electric smokers because they use the same electricity source, but both smokers are different. But, they do have a few things they share.
Electricity
Pellet smokers and electric smokers both utilize electricity to start. The main difference between electric and pellet smokers is that when you use an electric smoker, the heat source is the rod made of metal, whereas the pellet smoker generates heat by burning wood.
Set-And-Forget Convenience
Both pellets and electric smokers belong to the category of 'set-and forget' smokers. Wood and charcoal smokers yield rich smoky meat; however, they need a lot of effort to control the fire and ensure a stable temperature. The most appealing thing about pellet and electric smokers is their simplicity of use. All you have to do is select the temperature and the rest of the things these smokers can manage by themselves.
Pellet Smoker vs. Electric Smoker: Similarities
While pellet grills and electric smokers each make use of electricity to operate, both are distinct smokers. Pellet grills are usually miscategorized as electric smokers since they require electricity for operation. So, here are some points that help you understand the differences clearly.
Heat Source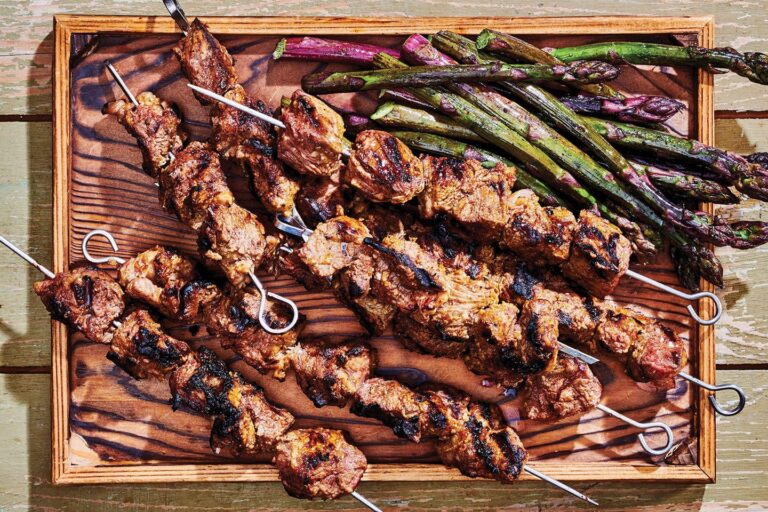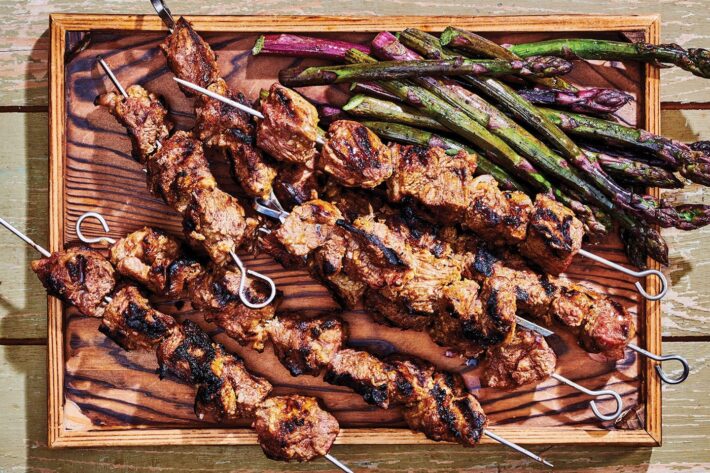 Electric smokers generate heat by using heating elements like an oven and stove, while pellet smokers burn charcoal pellets in a fire pit to generate heat. Food cooked over fire produces a distinct taste that is why food is more delicious when cooked on the pellet smoker.
Smoke
Pellet grills are powered by wood pellets, which are used to provide warmth for cooking and provide an authentic smoke of wood that enhances the food flavor. Pellet grills create less smoke at higher temperatures; however, when you cook them low and slow meat, it will absorb lots of smoke. Electric smokers feature wood chip trays that are positioned over an element of heating.
The wood pieces burn through the cook, enhancing the meat by releasing smoke. One of the biggest critiques of electric smokers is the lack of smoke they're capable of producing. But, many electric smokers have found a way to overcome this issue by using smoke tubes in the electric smoke makers.
Temperature Range
The main advantage of a pellet smoker over an electric smoker is a greater temperature range. Pellet smokers can cook between 150 degrees and 500 degrees, and electric smokers only can reach 270 degrees. Turkey and chickens must be cooked in the 300 degrees temperature range for crisp skin. This is the reason pullets that are smoked using electrics have extremely soft and hard skin.
Design
Many electric smokers have the same style of vertical cabinet that has three or four shelf stands. Pellet smokers resemble an outdoor grill with a hood. Many pellet grills are also designed with a good design that is similar to an electric smoker. However, the majority of them have a hood. Electric smokers are small and placed on a tiny patio or deck, whereas the pellet grill takes more installation space.
Smoking Time
A pellet grill can offer about 10 hours of smoke on average without refilling, and an electric smoker can provide 2 to 6 hours of smoking. Larger hoppers on models can be able to last longer than 10 hours. If you wish to make your smoking experience last longer, you can fill the hopper when it is near empty so that the smoker will continue running
Top 5 Best Electric and Pellet Smoker
1. Smokin-It Model #2 Electric Smoker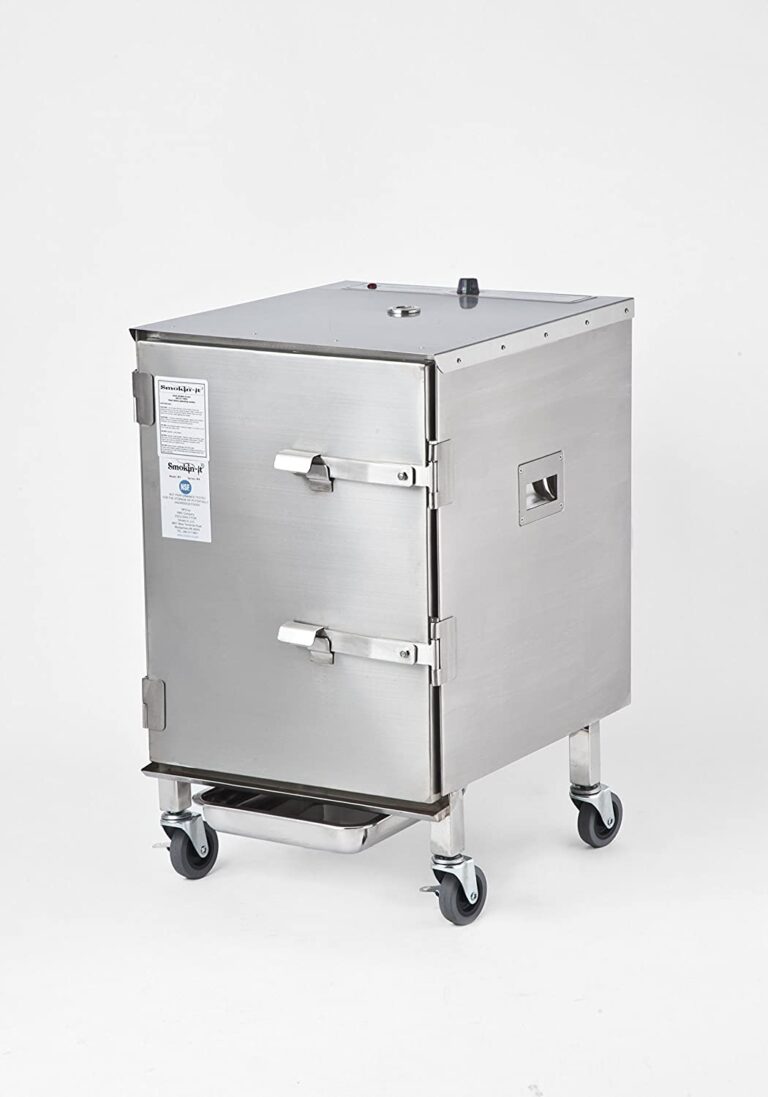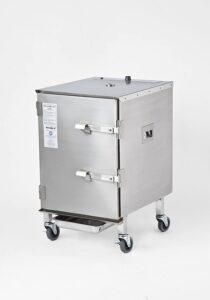 If you're looking for a commercial class electric smoker with more powerful features, then you should consider buying Smokin-it Model #2. While it isn't as popular in terms of brand recognition, Smokein-it compensates in terms of quality and size and has earned the top first place as our top electric large smoker.
The most appealing feature is the insulation of the Masterbuilt Smoker; this one is designed to look similar to a tank and constructed of stainless steel 18 gauge. This smoker is also protected with fiberglass to reduce the loss of heat. In contrast to other flimsy and lightweight metal electric smokers, this product is fully insulated and doesn't need any adjustments to keep an even temperature.
When you start to ignite this smoker, you will notice an increase between 40 and 50 degrees in temperature. As the chamber warms up, the temperature will decrease and stay at the desired temperature for a long time. In addition, there are four cookware racks made of stainless steel that you can customize to your choice.
Pros
Long power cord
Transportable
Less wood consumption
Cons
No hoods installed for ventilation
2. Masterbuilt MB20071117 Digital Electric Smoker, 30″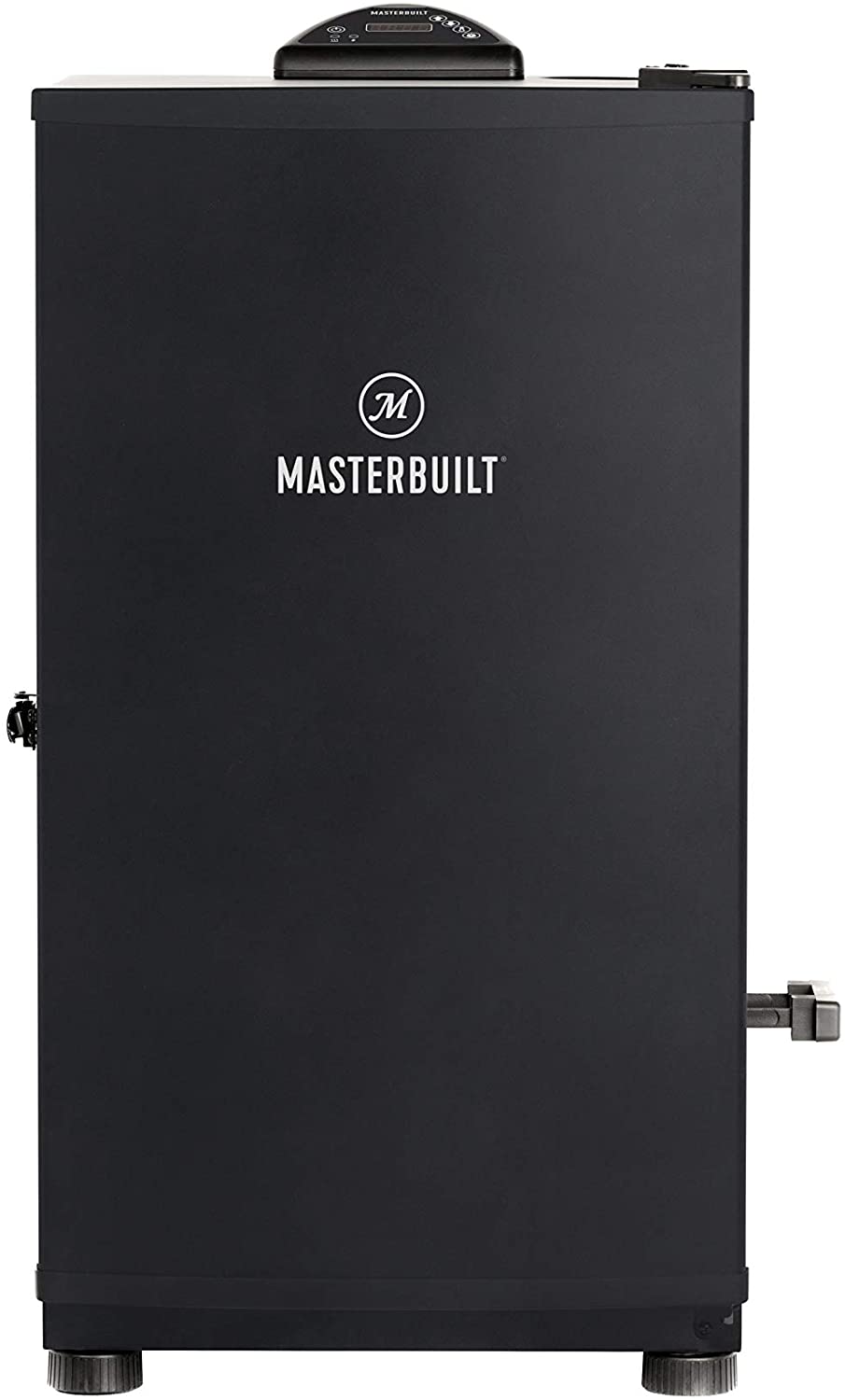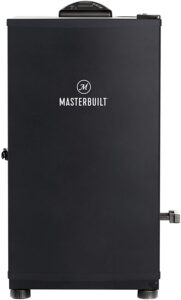 Masterbuilt is a household name for its top-quality barbecue facilities, devices, and accessories. The 30-inch electric smoker is not a slouch in terms of high-end performance and quality. The affordable smoker comes with four chrome-coated internal shelves with an area of 530 square inches that's approximately equivalent to two turkeys whole or six complete chickens or four racks for ribs and four pork shoulders.
The smoker weighs 50 pounds and comes with mounted digital panels that show all the information required to control the cooking temperature and time of cooking without risking accidental burns. A loading mechanism on the side lets you add wood chips and other ingredients without opening the grill and ensures the smoker is not losing heat or smoke. Cleaning up is easy, as it features removable shelves and pans.
Pros
Digital control panel
Removable racks
Side wood chip loading system
Cons
90 days warranty
Limites Features
3. Dyna-Glo DGU505BAE-D 30″ Analog Electric Smoker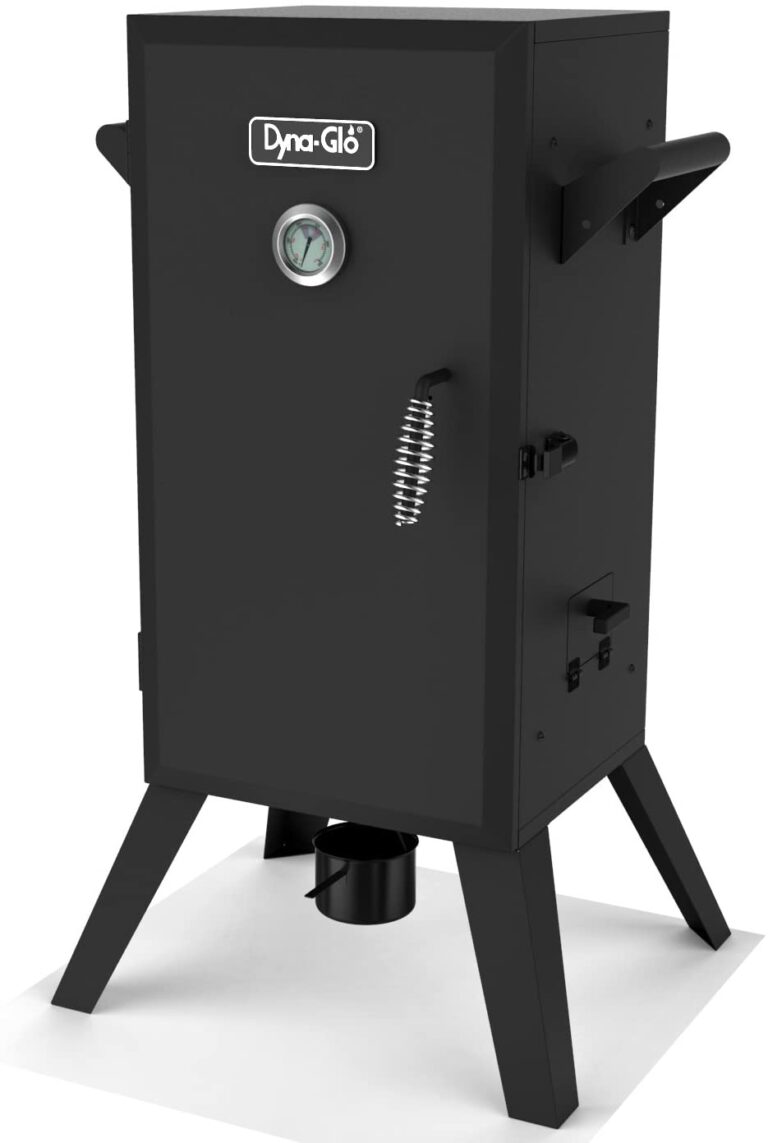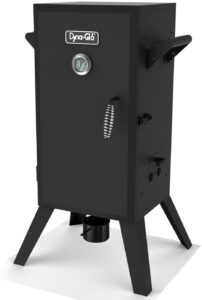 The Dyna-Glo gives you a pleasant smoking experience that includes several options that make cooking an easier process. This simple analog smoker comes with a capacity of 505 square inches and a temperature gauge, which has an area for smoking that makes it simple to determine the ideal temperature range to blend smoke flavors.
Dyna-Glo is a 1500-watt smoker with three flexible cooking grates and a wood chip loader that minimizes the loss of smoke when reloading. The double-walled fireplace helps to retain heat during cooking. The best part is that it's very handy to use and a great smoker for people who are new to smoking or who don't have much experience in grilling.
Pros
Built-in meat probe feature
Movable
4. Traeger Grills Pro Series 575 Pellet Smoker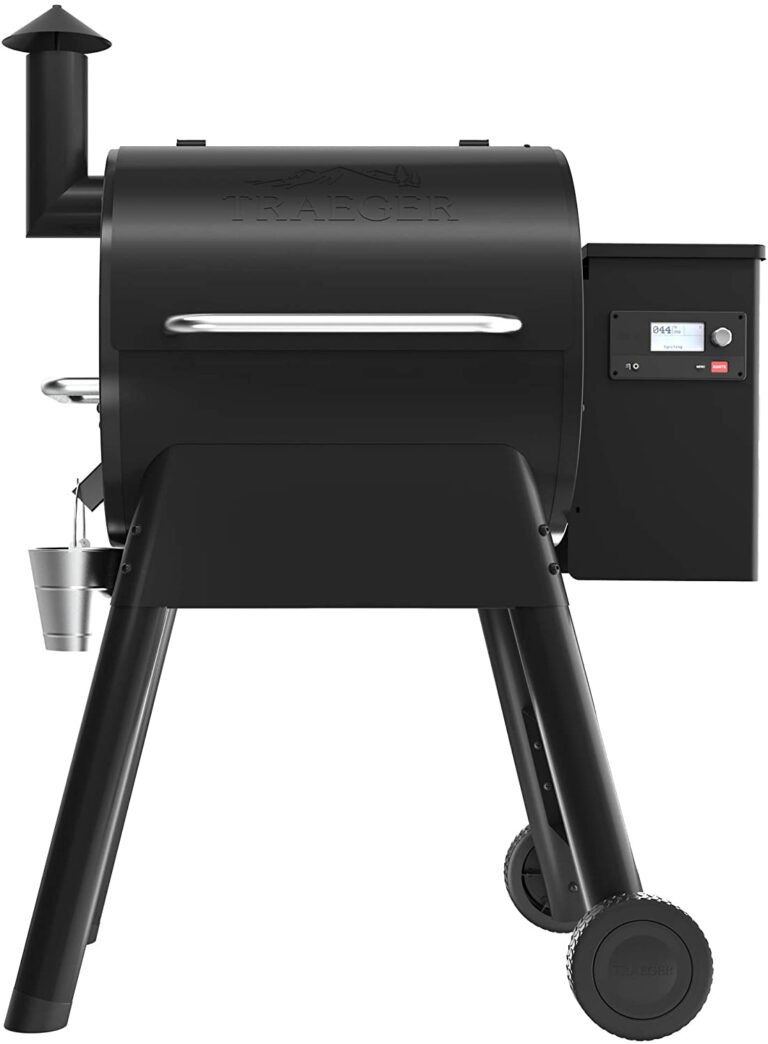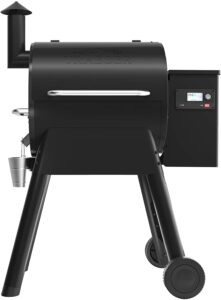 Commonly, the most popular brand is the most effective option for the majority of people. The same with this pellet smoker. It's simple to assemble, constructed from heavy-gauge steel, never has technical issues, and works with greater precision than other pellet grills that are economical. Traeger's 575 smokers are considered to be the standard product for pellet grills.
It has 572 sq inches of space for cooking enough to accommodate small families and groups. If you're planning to host a party, we suggest upgrading in size to Traeger 780, which has 200 square inches of grill space, which can accommodate larger parties without too much trouble.
Pros
Pellet chute makes it easy to do replacement of pellets or to empty
A powerful and regularly updated app that is regularly updated
A long-lasting warranty, strong materials, and a long-lasting warranty
Fantastic wheels
5. Camp Chef SmokePro SE 24″ Pellet Grill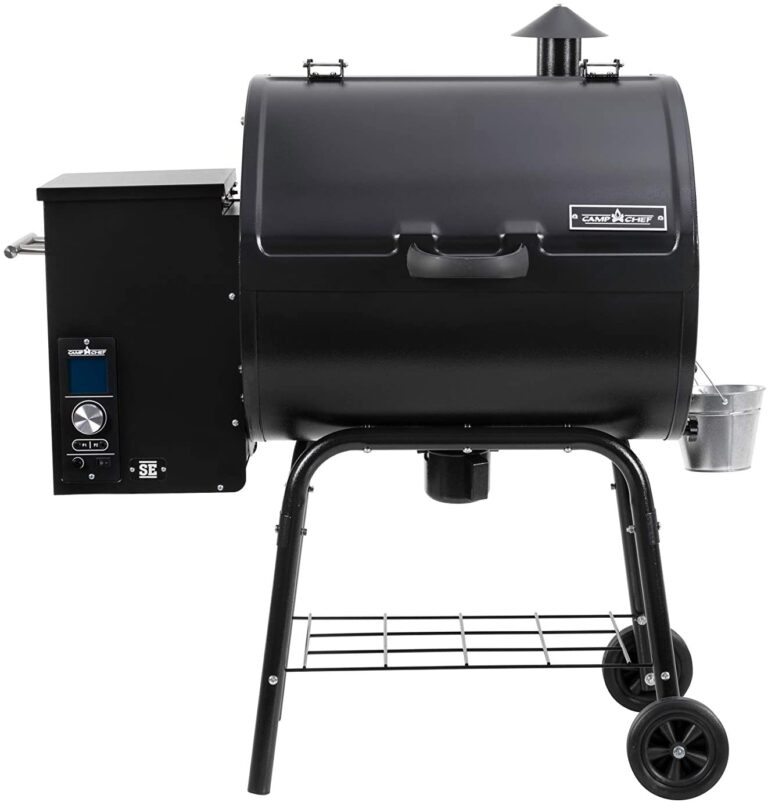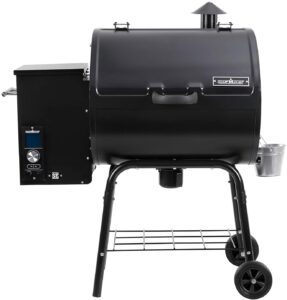 Camp Chef is a well-known name in the world of smokers and grills. The model is equipped with a heat range of 160-500 degrees and comes with two meat probes that can be used to check the roasts you cook. The chimney top that can be adjusted and smart smoke technology allows you to keep the ideal temperature in place for smoking when you prefer it over grilling.
It comes with a handy cleaner ash system operated by levers and a system for managing grease for quick cleaning and maintenance, and the roller wheels allow it to put it where you'd like it. The spacious cooking area and the 18-pound pellet feeder make it simple to prepare meals for the entire family or at a dinner party.
Pros
A lever-operated ash cleaning system
Equipped with meat probe
Strong steel built
Cons
Produce less amount of smoke
Conclusion
You'll experience better smoking flavor with a pellet smoker than an electric smoker in terms of flavor. However, the pellet grills cost more than electronic smokers and are also more economical to operate.
We usually suggest that if you're looking for an entirely hands-off smoker and have the money and space, invest in a pellet smoker. Nothing can match that authentic smoke from a wood smoker. However, if you're looking to keep your budget low and save money, the electric smoker is a great alternative for set-and-forget outdoor smoking. You'll be amazed by the results you'll receive!