In general, every BBQ lover has confusion i.e, Offset Smoker Vs Pellet Smoker. What do they have to choose between an offset traditional smoker or a modern pellet grill? This article will help you understand the differences, similarities, and comparisons between these two smokers.
Our Pick
Amazon's Choice
Good Pick
Don't Miss
Also Consider
PIT BOSS 72440-PB440D LGrill Deluxe Wood Pellet Grill, 440 Square inches, Stainless Steel
Traeger Grills Tailgater 20 Portable Wood Pellet Grill and Smoker, Black
Camp Chef SmokePro SE 24" Pellet Grill, Black
Oklahoma Joe's Highland Reverse Flow Smoker
Dyna-Glo Signature Series DGSS1382VCS-D Heavy-Duty Vertical Offset Charcoal Smoker & Grill
Our Pick
PIT BOSS 72440-PB440D LGrill Deluxe Wood Pellet Grill, 440 Square inches, Stainless Steel
Amazon's Choice
Traeger Grills Tailgater 20 Portable Wood Pellet Grill and Smoker, Black
Good Pick
Camp Chef SmokePro SE 24" Pellet Grill, Black
Don't Miss
Oklahoma Joe's Highland Reverse Flow Smoker
Also Consider
Dyna-Glo Signature Series DGSS1382VCS-D Heavy-Duty Vertical Offset Charcoal Smoker & Grill
While they look alike in their appearance, they operate using distinct fuel sources. The cooking process in both smokers is different as well. One of the main differences between the two is their user-friendliness. This is an unbiased comparison that will allow you to choose the most suitable smoker for your needs.
Quick Comparison Based On The Features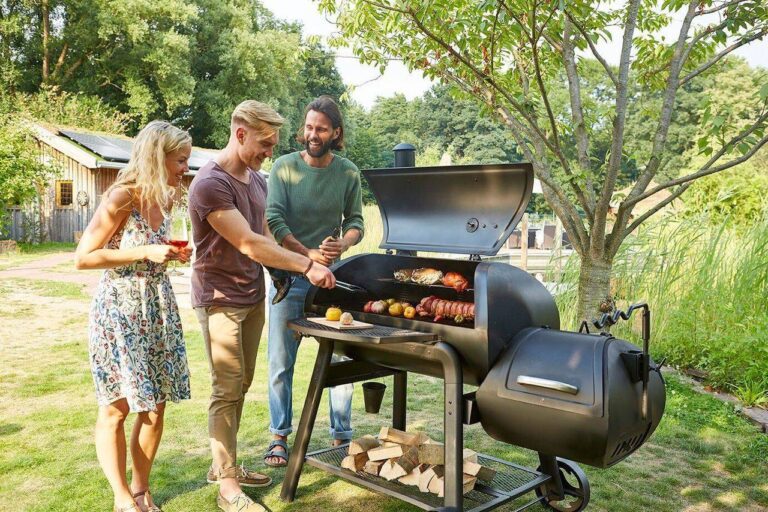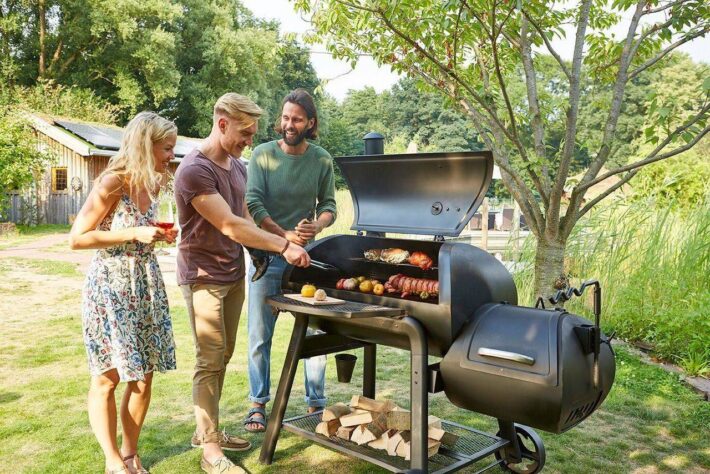 Ease Of Use
The user's experience is the main factor that one should look at. A pellet smoker is a simple and easy-to-use smoker. It lets you have a relaxing and enjoyable smoking experience. However, in contrast, using offset smokers needs prior experience to make it work. It is more complex to operate than a pellet grill. Once you have started the fire, you must examine it every couple of minutes or after 30 minutes to determine that it is operating correctly and also requires adjustments for vents or fuel.
Temperature Control
In an offset smoker, temperature control can be a bit of a manual job; however, it gives a pleasant experience if done correctly. To achieve the ideal temperature for an offset smoker, you'll need to regulate the airflow by closing and opening the vents. This is a unique process for each offset model and requires some practice to become familiar with it.
When you have a pellet smoker, you do not need to control the temperature manually. All you have to do is set the desired temperature you would like it to be on the control panel, and then the smoker will control the flow of air and pellet intake to achieve the exact temperature you require.
Flavour
The authentic flavour comes with the smoke created by the smoker. When it comes to offset smokers, the initial fuel is wood. Smoke gives a unique flavour to cooked food. Additionally, the food in an offset smoker is prepared at moderate and low temperatures. The heat source is indirect, and the heat is evenly transferred to the cooked food, making food chewy and soft.
However, the circulation of smoke and heat is continuous in the pellet grill smoker. The only thing you need to do is adjust the temperatures of your dish. So, when we talk about the flavour, the pellet smokers give results comparable to offset smokers.
Fuel Type
The offset smoker burns charcoal or wood to fuel. Its operating cost is extremely high. To regulate the temperature, it needs constant monitoring. Additionally, it does not require power to function. It's very transportable. It can be taken for outdoor camping or even to an area where there is no power supply.
Whereas the pellet smokers burn wood pellets to fuel. Its operating costs are low. It is powered by electricity. It is not portable; you cannot keep it in locations outside in areas where electricity is not available or, in the alternative, it is necessary to bring your generator along.
Temperature Range
Both pellet and offset smokers provide a large amount of flexibility regarding the temperature you would like to grill. The best thing about both kinds of smokers is that they can quickly get them to temperatures in the 200-degree celsius range.
The name suggests that the source of heat is located from the side of the firebox in an offset smoker. That means that you can not deliver direct heat to the grilling area unless you set off an additional fire inside the chamber barrel.
When using pellet smokers, the source of heat comes directly beneath the grilling area. However, there may be an air deflector and an oil tray between the grilling surface, with Z Grills 700 series. It is easy to remove, and an iron plate made of cast iron can be placed in its place for a severe searing effect.
Top 5 Best Offset and Pellet Smoker
1. Pit Boss 440 Pellet Smoker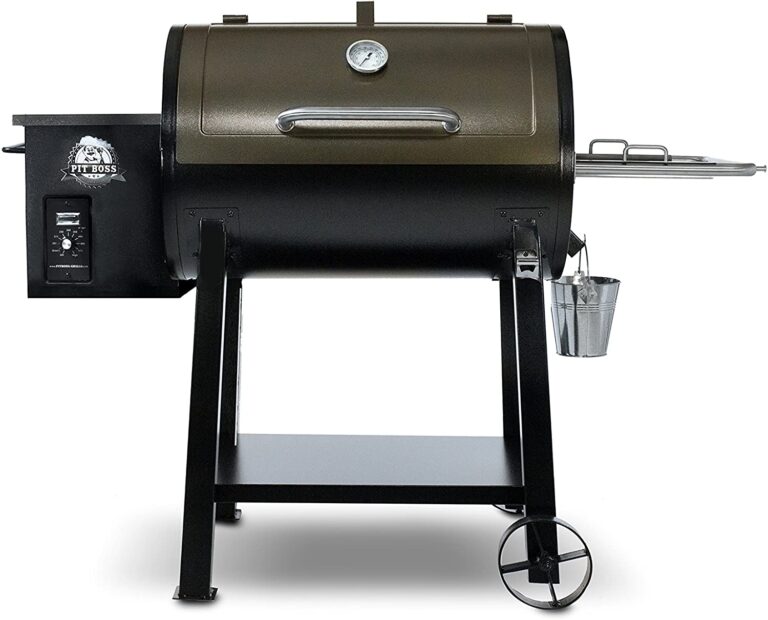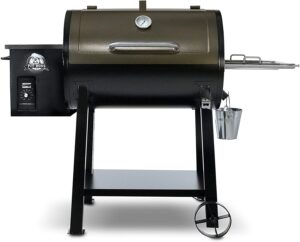 This Pit Boss Smoker provides an ample storage area. It comes with a side rack that can be used to prepare food or place your food and drinks. There is also an under-shelf that can store a stock of wood pellets and other equipment.
It features an automatic start and cool down mechanism that will reduce the time for setting up. It is constructed of heavy-duty 16-gauge steel; this grill can be challenging and hold a large amount of heat. It comes with a digital control panel and an LED display that displays the temperature; this feature makes it simpler to determine how much time it will take to prepare the food items.
Pros
It comes with an LED digital control panel
Designed with high-grade steel
Offers ample storage space (Side shelf and bottom shelf)
Provide the ease of automatic start and cool down
2. Traeger Tailgater 20 Pellet Smoker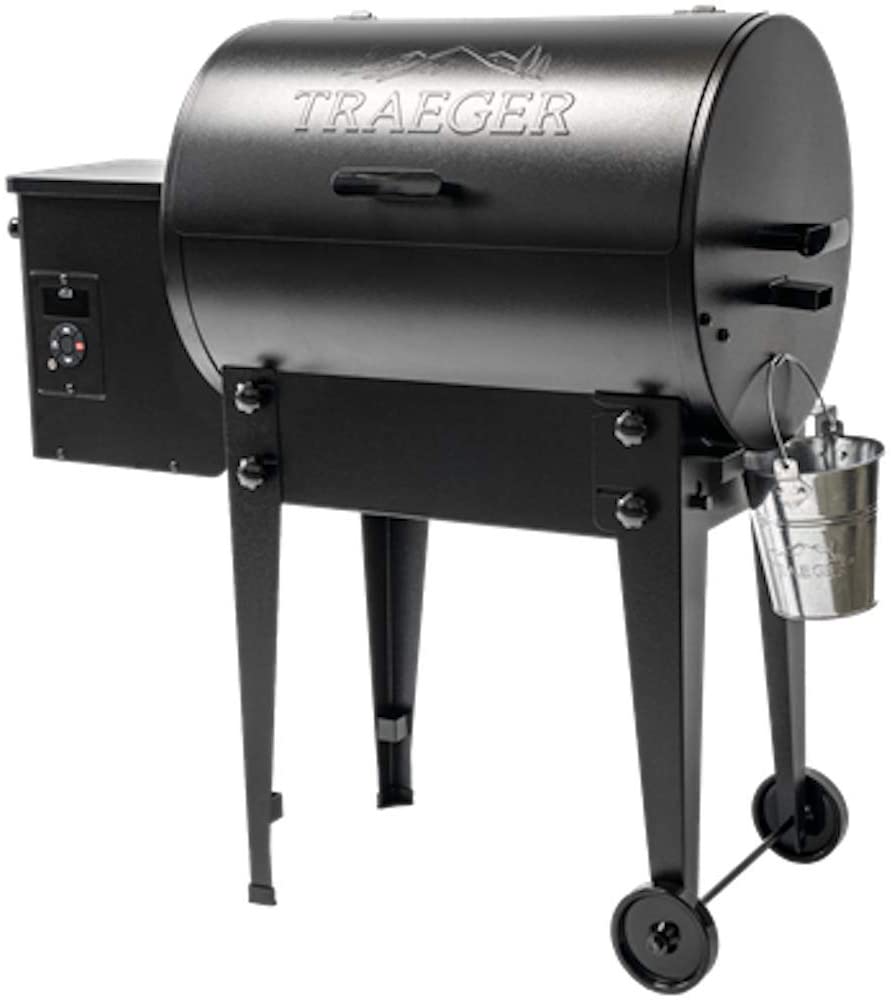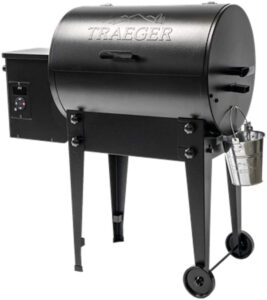 Traeger Tailgater Pellet smoker can cook food in six distinct methods: It can cook, smoke, broil, roast barbecue, and grill the food. The in-built feature of the elite digital controller allows you to maintain the temperature to within 20°C. All you need to do is start the dial, and make sure it's up and running. This smoker gives 300sq. Inches of cooking place. This is enough room for cooking up to 12 hamburgers, three ribs boxes, and two complete chicken racks.
The Tailgater includes the tools that allow you to smoke food in any setting. The EZ-fold legs, allowing you to fold it and carry it with you anywhere you'd like to take it. It is a portable smoker; you can easily keep it in a car and is best for outdoor surroundings. It comes with wheels, which makes it easy to move anywhere.
Pros
It is available in multiple colors
Portable
Offer various methods of cooking
3. Camp Chef SmokePro SE 24″ Pellet Grill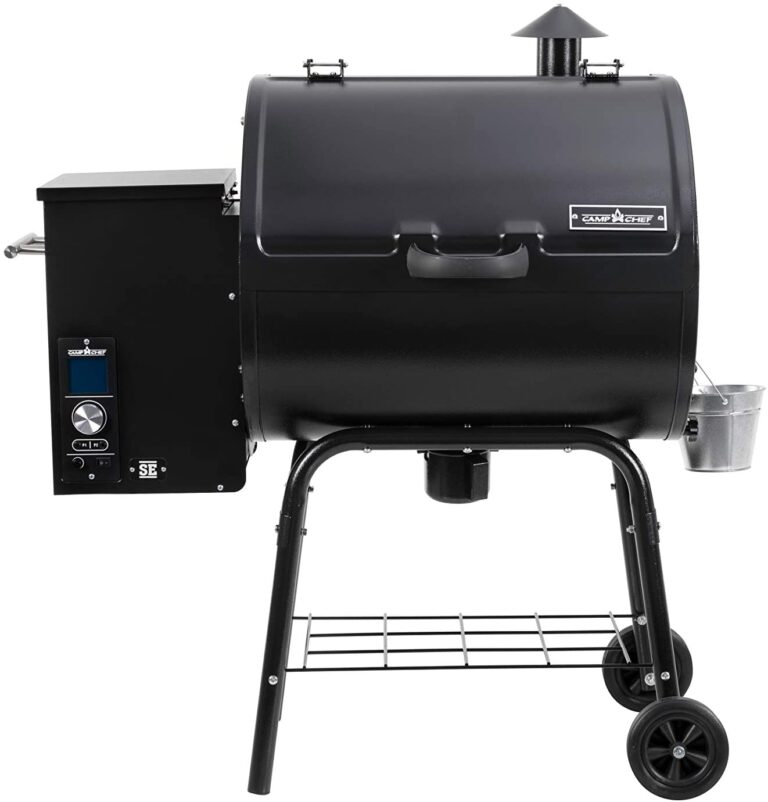 It's not the most popular offset pellet smoker. However, it's become more well-known over the years. This smoker has a built-in sensor gauge that entirely regulates the internal temperature of cooking. It also has a massive capacity for pellets, which keeps you from having to refill the hopper regularly.
The two wheels underneath the smoker will allow you to move it to wherever you need to move. The handle is given behind the pellet auger enables the grill to be tilted upwards, making it simple to pull. The grease drip disposal system lets wax drain out of the food items.
Pros
Integrated temperature sensor
Spacious area for grilling
Big pellet hopper
It comes with roller wheels to move anywhere.
Cons
Very difficult to find in retail shops.
4. Oklahoma Joe's Highland Reverse Flow Smoker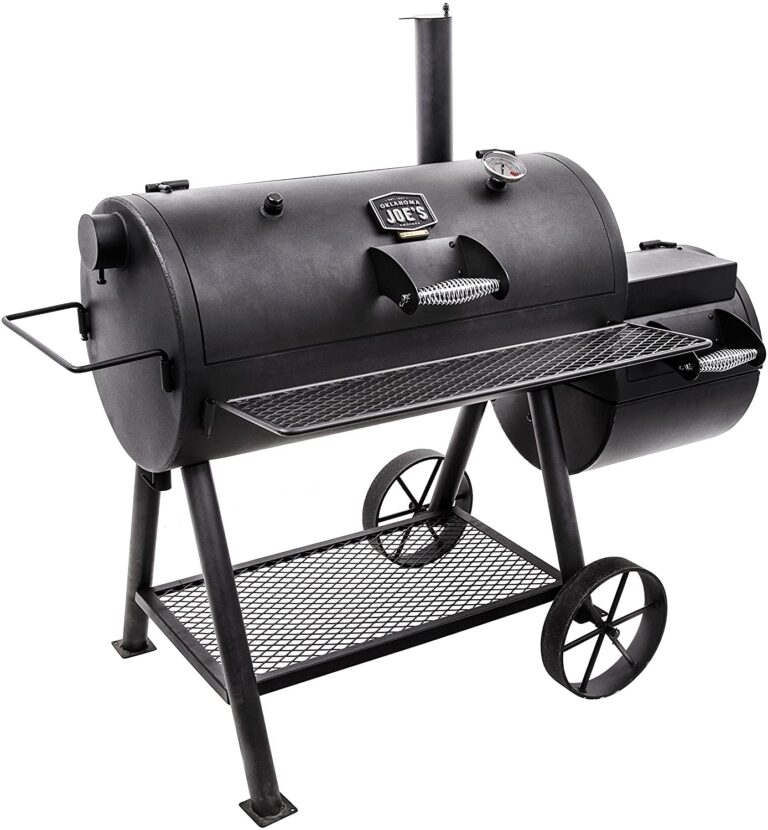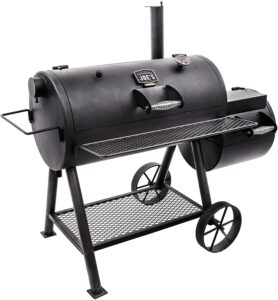 Oklahoma Joe's Highlands is the most effective offset smoker that we would recommend to those with a less than $500 budget.
In contrast to many cheap offset smokers, Oklahoma Joe's has been designed with heavy-gauge steel to improve heat preservation and more gives excellent stability.
They are coated with porcelain and offer an area of 619 sq inches for cooking in the primary chamber. There's an additional 281 sq. inches of space for the firebox section. If you're looking for extra cooking space, the company also offers the identical Longhorn with 751 square inches of area in its main cooking chamber.
The Highland offers the possibility to set it up as an offset smoker with the reverse flow, which means that the heat generated by the firebox must travel through a baffled fuel up to the point where it then returns and can draft into the cooking chamber that is used for cooking.
Pros
Best features worth for money
Versatile
Even heat distribution
Cons
Sometimes it causes leaks, if not properly sealed
5. Dyna-Glo Signature Series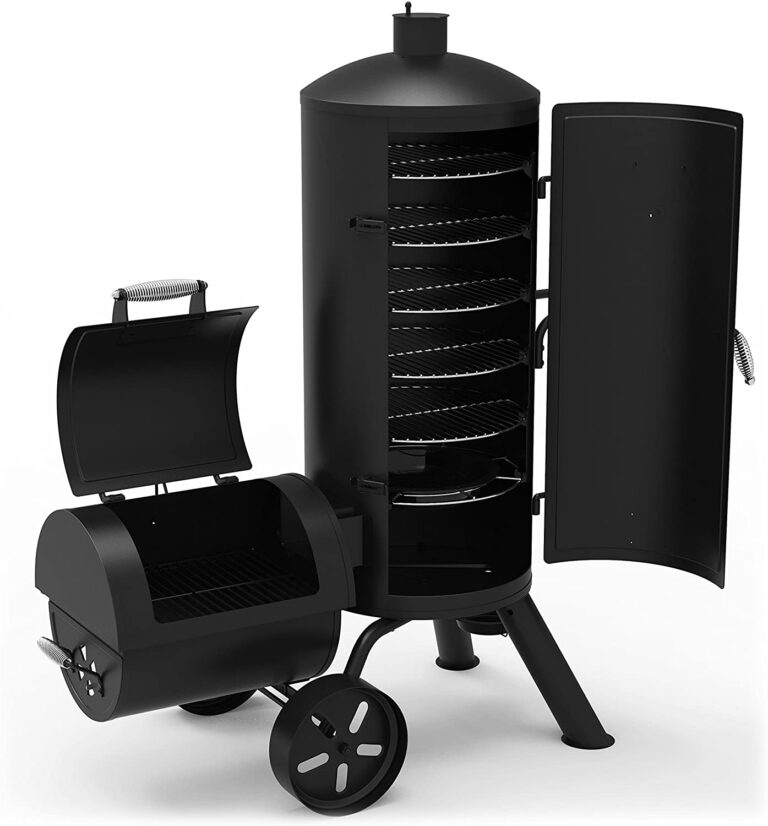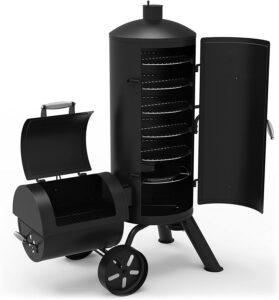 You will find loads of space in this smokehouse, with 675 square inches in the central container and 287sq. inside the firebox. You can even place the pan or pot on the lid of the fireplace. The legs and wheels appear sufficiently large and solid. However, the lower and front counters appear more petite than the average.
An excellent feature is an ashtray that slides out of the drawer built into the firebox for effortless cleaning. The firebox is too small, which means you cannot throw away logs over the fire. Get some flavoured wood chips to increase the flavour of your fire. The baffle adjustable design in the firebox is tiny, so you'll need oven gloves on before making any arrangements.
The grills are made of porcelain-enameled steel. It is possible to cook using charcoal in the main chamber straight from the box. Therefore, you can appreciate the versatility of smokers as you can use both wood and charcoal as fuel.
Pros
Reasonable price
Excellent choice for the grill
Versatile
Cons
Firebox size is relatively small
Bottomline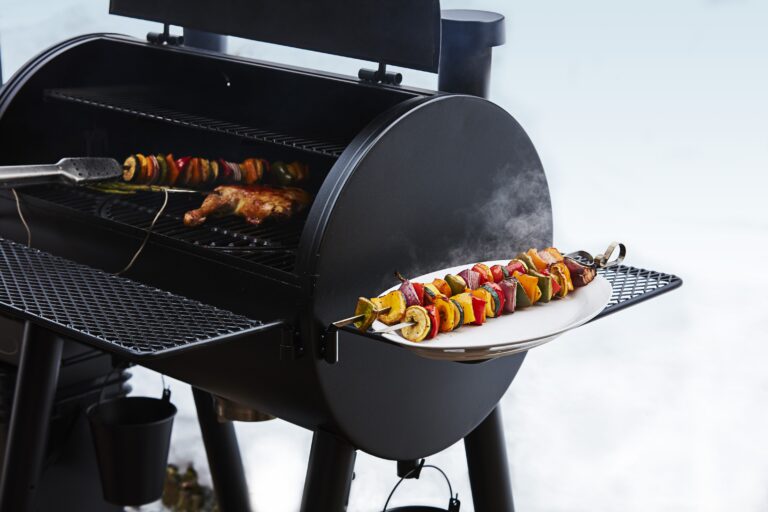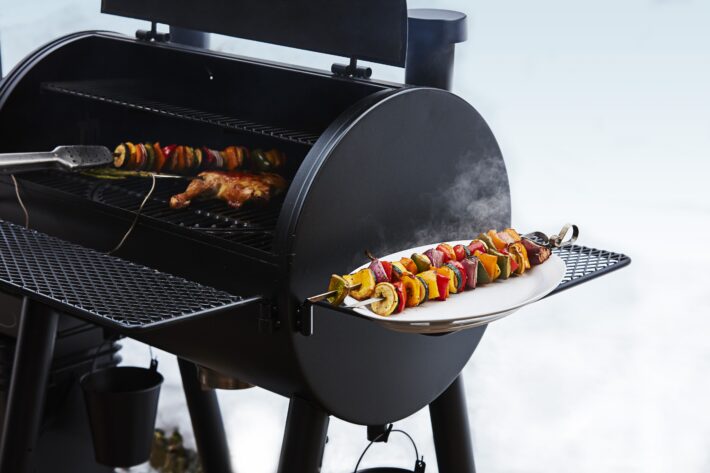 The argument over Offset Smoker Vs Pellet Smoker probably will never be solved. Many BBQ enthusiasts opt for older-fashioned offset smokers. On the other hand, many are happy with the ease and efficiency of pellet smokers.
It all is based on the kind of person that you're. Offset smokers make you manage the temperature frequently and look after it till the food is prepared. If you're the kind of person who appreciates that is the case, then absolutely opt for offset smoking. If you prefer to get the exact outcomes, but with greater accuracy and less hand-operated tasks, pellet smokers are the best option.
It these weren't enough, check out some other picks from Amazon: