If you bought a new grill or smoker and you think you're ready to host the best BBQ party for your friends or family, you should first make sure you know exactly where you should place it.
Since using a smoker comes with certain risks, you need to ensure that you will be using it in a safe way and that you take all the necessary precautions beforehand.
Placing a grill or a smoker inside the house is generally not recommended. The smoke and the heat can cause a variety of issues and be extremely risky and inconvenient. For example, your electric smoker can get super hot and cause some items that are in the close vicinity to catch on fire or melt.
The smoke that the appliance produces can also be poisonous when built up in an enclosed area, but that's not all.
Not only can it be fatal, which is obviously a very dangerous aspect, but the items around your house can also absorb the smoke and the smells which would be super inconvenient. That's why placing your grill or smoker outside, in your backyard, or on your patio, is always the best course of action.
Although using your patio for the cooking sessions with your new grill or smoker seems simple enough, you shouldn't just place the appliance anywhere. There are certain rules you should follow if you want to avoid the dangers that can arise from using a grill or electric smoker.
The general rule you should follow is keeping the grill or the smoker at least 10 feet away from your house and your home exterior. The reason why this is important is that your home's siding can be affected and ruined by the heat that grills and smokers produce.
When using your grill or smoker, you typically have to use either wood chips, charcoal, or an alternative fuel source. No matter what you end up using, the heat from burning this 'fuel' can easily affect your home's siding, and if it's the vinyl siding in question, the heat can even melt it. That is one of the main reasons why the placement of your grill or smoker is extremely relevant.
Tips on The Best Grill And Smoker Patio Placement
Gathering all the essential info regarding the perfect placement for your grill or smoker on the patio can be time-consuming and frustrating. Nonetheless, having this info is important if you want to minimize any and all risks that using these appliances imposes. That is why we took the matters into our own hands and gathered all the info in your stead!
To make sure you have all the necessary information when it comes to placing and using your grill or smoker on your patio, we'll provide you with a list of tips you'll find very helpful. Take a look at the list below for all the details:
1. Put It on a Flat and Even Surface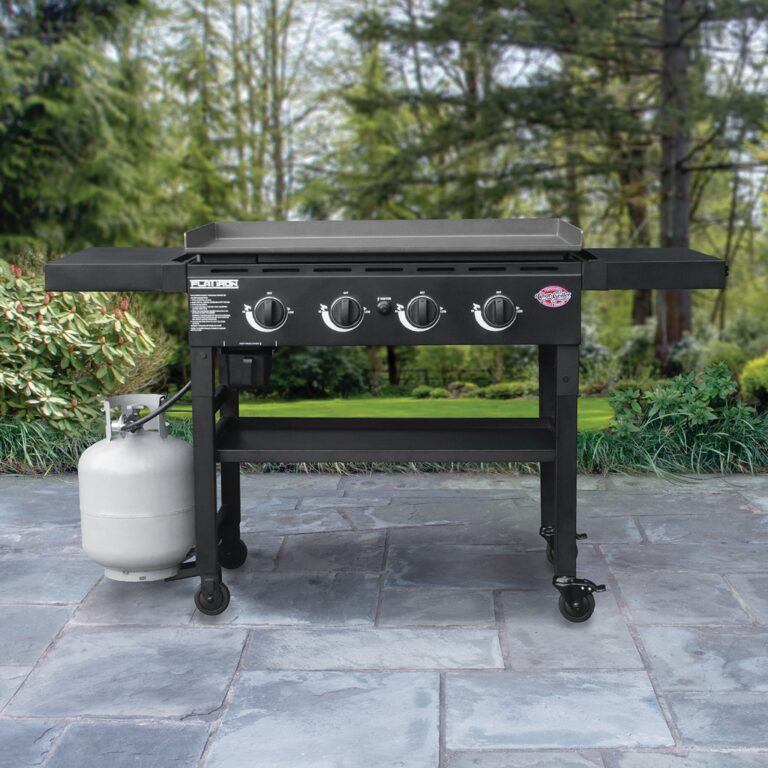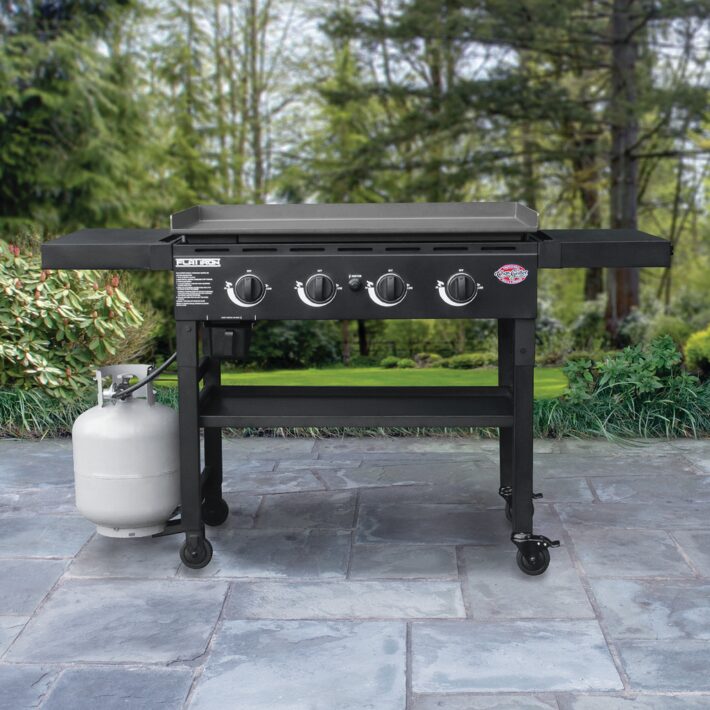 Apart from following the 10-feet rule we mentioned, you should also pay attention to the evenness of the surface where you're placing your appliance. Using your grill or smoker on an uneven surface can be very risky.
If your grill or smoker leans on one side, the burning hot wood or charcoal from it can easily fall out or topple over it. This can easily create a fire hazard, and that is why it's extremely important to inspect your patio before choosing the perfect spot for your appliance.
You need to find a perfectly level and even surface in your patio and only choose such places to put your grill or smoker in. If your patio doesn't provide you with this option, you shouldn't use your appliance there but find a different spot to avoid any risks.
2. Get a Protective Mat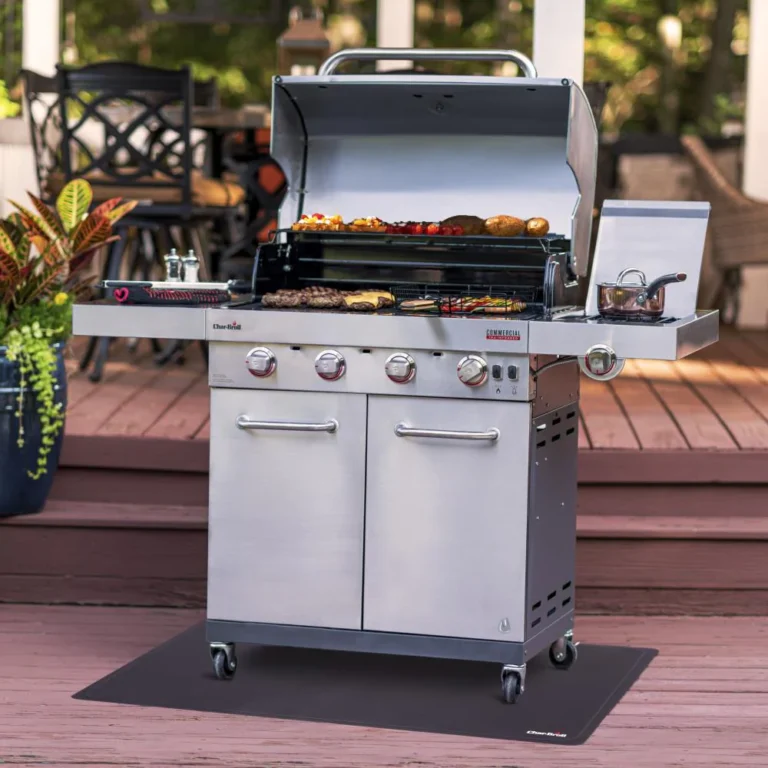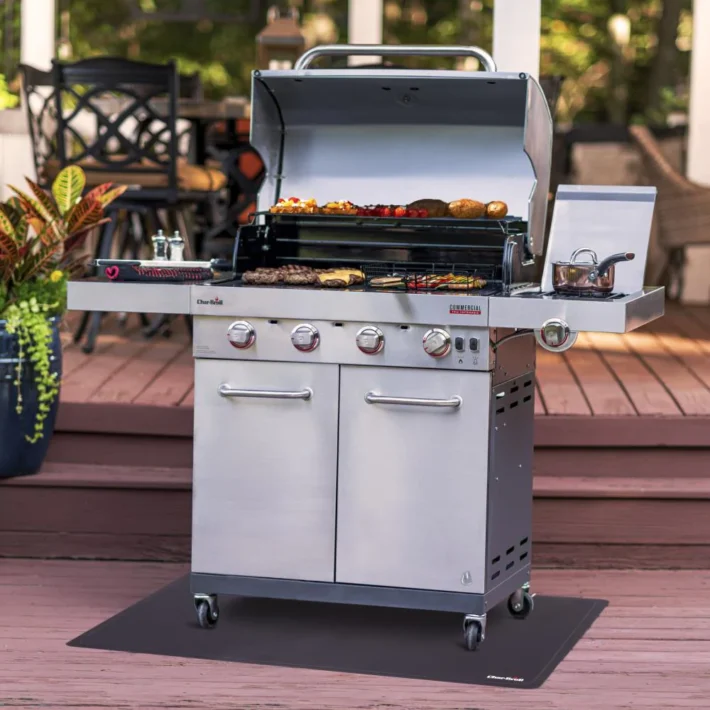 Although placing your grill or smoker on an even surface will help you avoid the hot charcoal or wood spilling, some of it can still find a way to the ground. If the stray embers end up falling to the floor, they can damage your wood planks and ruin your patio. That's where the protective grilling mats come in handy.
There is no shortage of different brands and models of these mats you can find online with ease. They shouldn't be too pricey either, and they will certainly help you keep your patio safe and intact.
These protective grilling mats are heat-resistant so they will create a perfect barrier between your patio floor and the burning charcoal/wood. Purchase one of these and have peace of mind whenever you're using your grill or smoker.
3. Consider Windbreaks and Coverage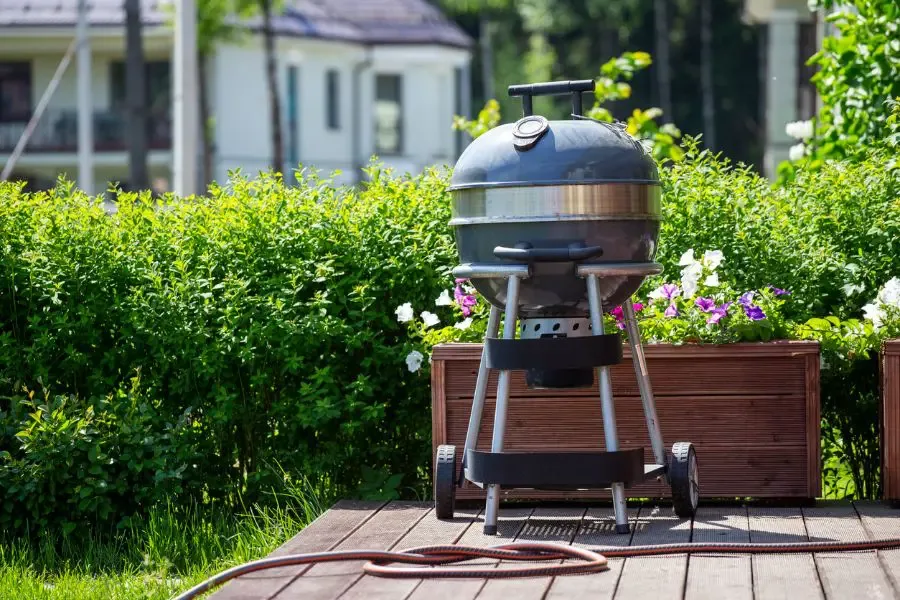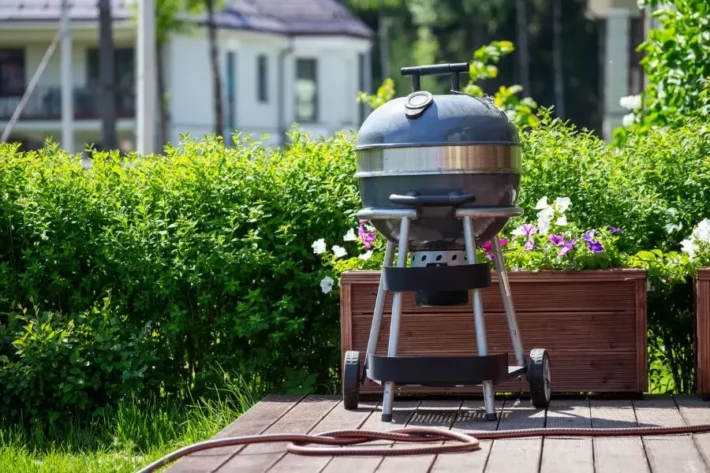 The final thing you should do when it comes to your ideal grill/smoker patio placement is to consider windbreaks and coverage. Windbreaks will help you light your smoker or grill easily and avoid having the wind blow across your appliance and ruin your grilling.
Apart from blocking the wind, you should also find appropriate coverage that will help both you and your appliance stay dry in case of rain. That way, you can use your grill or smoker even during the rainy days without having to reschedule any cooking sessions, parties, or activities.
When it comes to placing your grill or smoker on your patio, you should factor in more than one thing to ensure you use it in the easiest and safest way. With that being said, the most important rule to follow is placing it at a minimum of 10 feet away from your home and your home's exterior.
The 10-feet rule, along with all the useful tips we mentioned in the article, will help you avoid any risks when it comes to using the appliance on your patio.
Why stress about anything or risk ruining your home or patio when you have a more convenient solution at your fingertips? By following our tips, you can start using your grill or smoker like a pro at any time!