A smoker grill combo does the job of both machines while preventing you from spending money on two separate pieces of equipment.
The mere thought of a sizzling barbecue made on a grill and a chicken cooked in a smoker is enough to water a person's mouth. However, spending money on a barbecue grill and a smoker separately can cause a giant hole in your pocket. How about if I introduce you to a few models of smokers that will do the job of both smoker and a grill, exceptionally.
Editor's Pick
Good Choice
Also Consider
Char-Griller 06620 Akorn Kamado Kooker Charcoal Barbecue Grill and Smoker, Red
Royal Gourmet CC1830FC Charcoal Grill Offset Smoker (Grill + Cover), Black
Camp Chef 24 in. WIFI Woodwind Pellet Grill & Smoker with Sidekick (PG14) - WIFI & Bluetooth...
Editor's Pick
Char-Griller 06620 Akorn Kamado Kooker Charcoal Barbecue Grill and Smoker, Red
Good Choice
Royal Gourmet CC1830FC Charcoal Grill Offset Smoker (Grill + Cover), Black
Also Consider
Camp Chef 24 in. WIFI Woodwind Pellet Grill & Smoker with Sidekick (PG14) - WIFI & Bluetooth...
Smoker grill combo models are just what every foodie and a chef needs in his life. The ease of grilling chicken and, side by side, smoking meat is what puts these models apart from the rest in the market. I compiled a list of smoker grill combos and narrowed it down to these 7 best models. This article contains a detailed review of each model, along with a buying guide at the end to help you pick one for yourself.
Top Smoker Grill Combo
1. 18-1/2 in. Classic Pit Barrel Cooker Package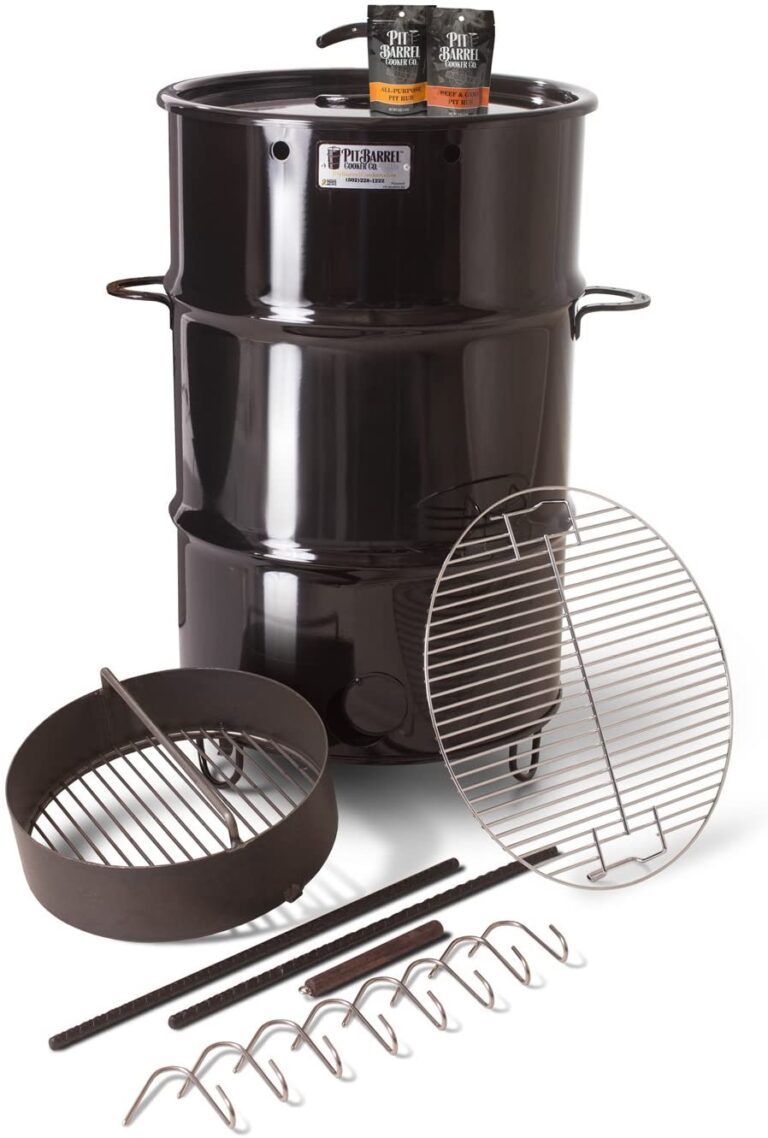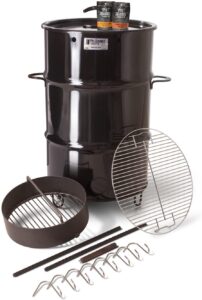 On top of my list of the best smoker grill combo is the 18-1/2 in. Pit Barrel, and it is on top for a reason. This smoker grill gives you an unmatchable amount of cooking space, and that too at a very meager price compared to other models. From construction to its functionality, everything is just what you need when you are slow-cooking a meal in a smoker.
It is in the shape of a barrel, so you can imagine all the space that it provides. At the bottom of the barrel is where the firebox is present, where you can add charcoal fuel. The top of the barrel has 8 hooks for you to hang your chicken, pork chops, and even a turkey on. It also comes bearing a steel grate so that you can grill your food with ease. All you gotta do is hang your food on either the grate if you want to grill it or on the hooks if you wish to smoke it. Then add fuel, and that is all!
The easy-to-use design of this model has also played a role in gaining its popularity. If we discuss the body of this smoker, it has been constructed with high-quality steel that has been further coated with porcelain enamel to prolong its life. Every single part, including the hooks and the grate, has been constructed with stainless steel and has a porcelain coating so that it does not get damaged with moisture.
Pros
Easy to assemble
Comparatively affordable
Large cooking space
Stainless steel parts
Porcelain-coated steel body
Cons
Ashpan is not included in the kit
This model of smoker grill combo is perfect for those who take their smoker out and cook large meals every other weekend. Along with its large cooking space, it has a porcelain-coated steel body that will hold its ground even after years of continuous use.
2. Camp Chef 24 in. WIFI Woodwind Pellet Grill & Smoker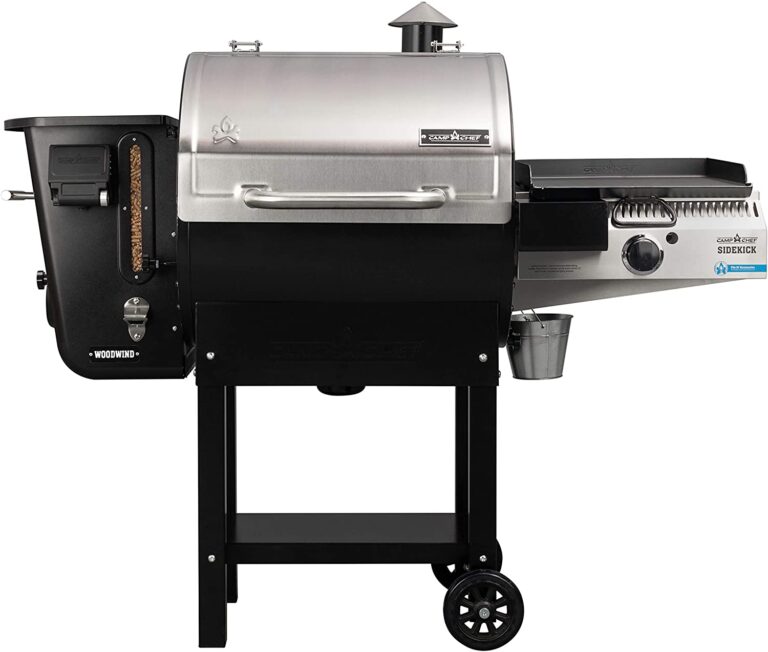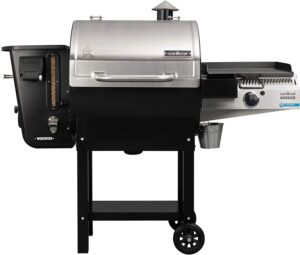 This is not just any other smoker grill where you light a fire and cook your food. This model brings so much more to the table that makes it worth the hefty price. Firstly, it is a pellet smoker and grill, so you do not need to keep a tab on the fuel constantly; just load the pellet box and sit back and relax. The automatic feed system will keep providing your grill with pellets, and the temperature of the smoker will not fluctuate even a bit.
It has an all stainless steel construction which means that it will last you a long time. Even though the model's look is more leaned towards a grill, it works really well as a smoker. It provides a total of 760 square inches of cooking space, which is more than enough for you to cook a meal for the entire family. In addition, it has an ash cleanout system that comes to your rescue when you are done using the smoker and grill.
The sear box on the side provides you with extra space for grilling. The cooking temperature goes from as low as 160°F up to 500°F, providing you with a perfect range to cook all types of meat. However, the highlighting feature of this beast is that it comes with Wifi connectivity. This feature enables you to hook your phone to the smoker and control the temperature from your phone.
Pros
Automatic pellet feed
Wifi connectivity
760 square inches cooking space
Stainless steel body
Sturdy wheels
Advanced cleaning system
Perfect for smoking and grilling
Invest your bucks in this smoker and grill if you want a machine that will not have you standing right next to it and sweating due to the heat. Instead, you can simply control it with your phone; the auto-feed will save your time and energy from constantly checking and refueling the smoker.
3. PIT BOSS 700FB Pellet Grill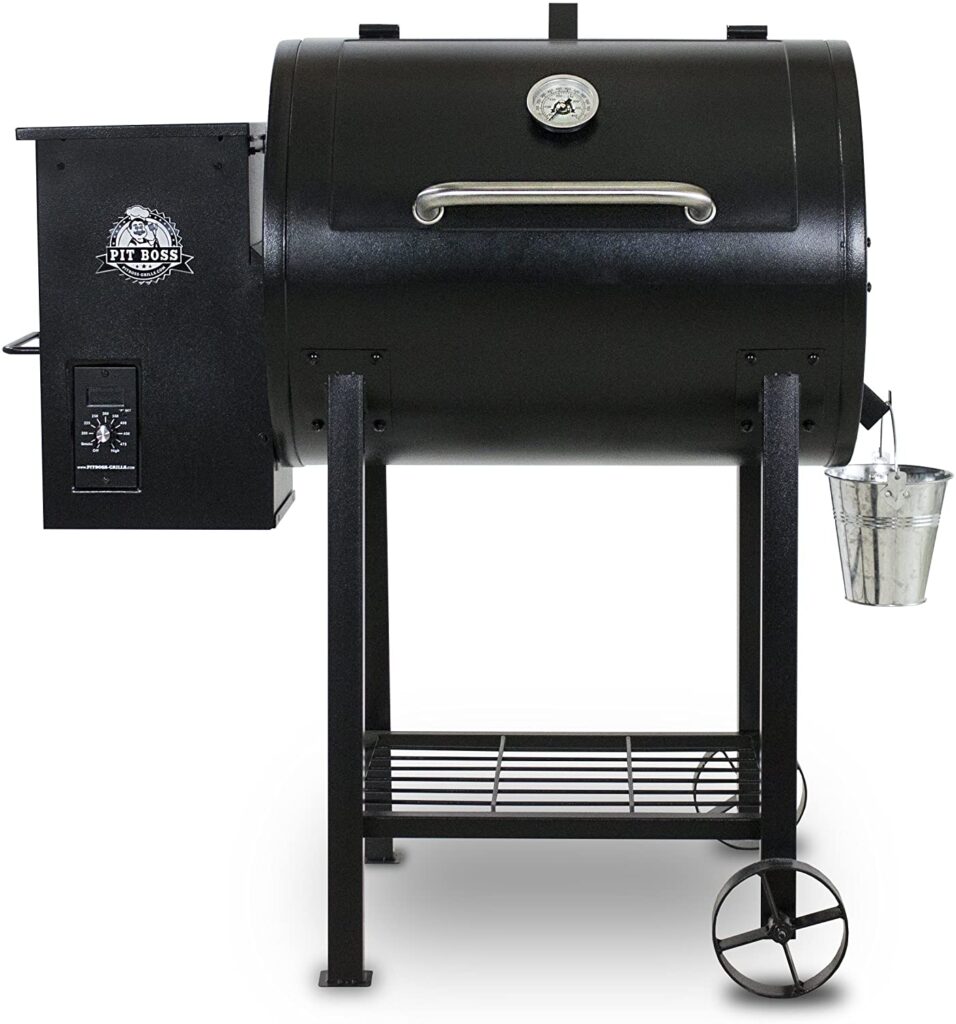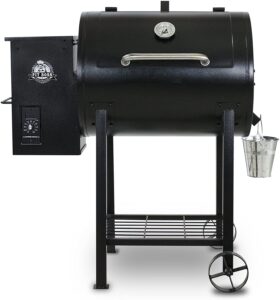 Pit Boss is not an unfamiliar name in the world of smokers and grills. However, each model of theirs holds unique properties that make it worth the investment. This model lives up to that reputation. It comes with a large cooking space and a digitally controlled system.
This is a wood pellet smoker grill combo, so once you stock up the hopper, the auto-feed system will keep your grill and smoker going for hours. You will not have to stand and check the fuel constantly. It has a matte black body that has been constructed with heavy-duty steel. The grates have been constructed with stainless steel and then have been sprayed down with porcelain coating to keep them rust-free. The rack at the bottom, along with the wheels, makes the usage of this smoker and grill even easier.
It gives a total of 700 square inches of cooking area. The best feature of this model is its digital control system that lets you keep the temperature in control. The temperature goes from 170°F to 600°F; hence you can use this model to grill, smoke, bake, sear, broil and roast your food. You can check the temperature on the built-in thermostat on the lid. Just because it is not powered by charcoal does not mean your food won't have the traditional flavor. It has a fan that accelerates the flame and distributes the heat evenly in all parts of the smoker.
Pros
Electric ignition
Digital control system
700 square inches cooking area
Steel body
Thermostat built-in
1-year warranty
Cons
Does not have a side shelf
Pit boss really knows what its customers need from their smokers and has provided all of that in this model of smoker and grill. From an easy-to-use design, a large cooking area, to a sturdy body, this beast is loaded with all the handy perks.
4. Royal Gourmet CC1830FC Charcoal Grill Offset Smoker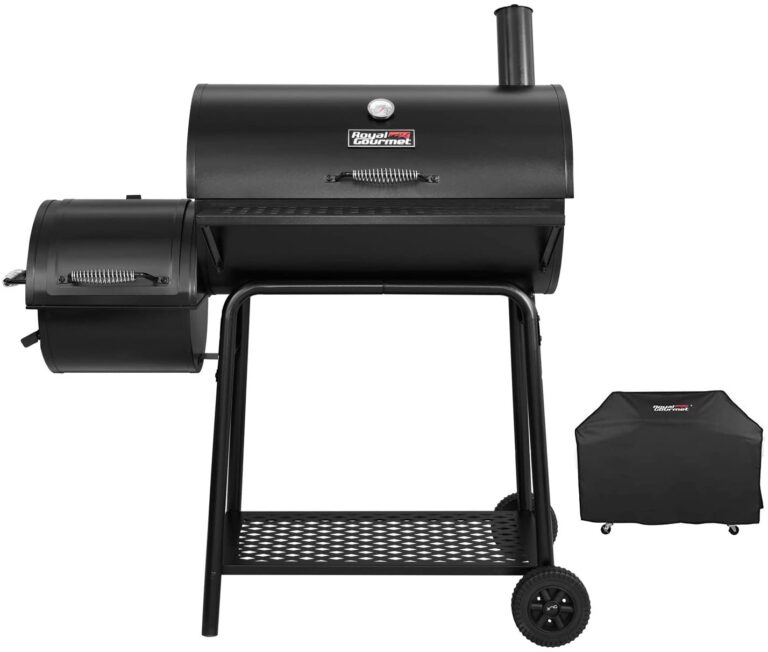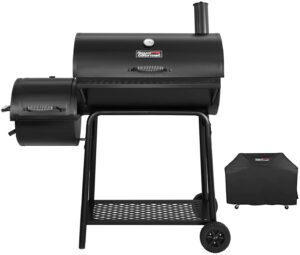 This model of smoker and grill has the body of a traditional grill. It has a main cooking area and a side firebox. The body has been constructed with high-quality steel that makes sure your smoker lasts you many years, even after being used continuously. The cooking grates have been constructed with steel as well and have further been coated in porcelain enamel. This way, your food gets grill marks, and the grates stay safe from rust.
Other than the steel body, this boy provides an exceptional amount of cooking space. A total of 823 square inches of the cooking area includes the grilling portion, the warming rack, and the offset smoker part. With the built-in thermometer on the lid, I found monitoring and adjusting the temperature on this smoker a piece of cake.
Another feature of this model that I found quite handy while using it is that the height of the charcoal pan is adjustable. So you can adjust how close the fire is to your food. Along with that, the charcoal pan is also removable, so getting rid of ashes will no longer be a pain. The offset smoker part comes with a vent on the door that helps in the regulation of temperature. It comes with a rack at the bottom for you to put extra fuel or utensils on. The rubber wheels at the bottom make wheeling it around a breeze.
Pros
Affordable price tag
Steel body
Large cooking space
Comes with wheels
Built-in thermometer
Adjustable charcoal pan
Cons
Assembling is a bit tricky
If this is your first time with a smoker, then invest your money in this model. Firstly, it requires a small amount of investment. Other than that, its features and the functions it offers are no less than the high-end models present in the market. You are not going to find a better model at this price range.
5. Char-Griller 06620 Akorn Kamado Kooker Charcoal Grill and Smoker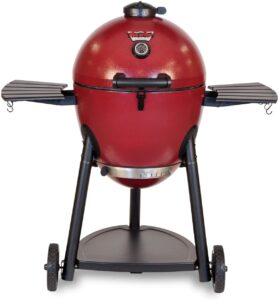 Char-Griller knows what people want from their smoker and grill, and they have provided exactly that in this model of smoker grill combo. This beast comes with triple-walled steel construction that provides remarkable insulation; hence, food gets cooked perfectly just in time. In addition, this beast is capable of providing a temperature range from 200°F to 700°F.
The sturdy exterior construction has been topped with powder coating, and the parts on the inside, such as grates, come with porcelain coating to prolong the life of this smoker and grill. It provides 447 square inches, 314 on the main area, and 133 square inches on the warming rack. The warming rack can also be removed if it is not needed. The folding side shelves provide you with extra space for utensils. The cooking chamber can be locked from the outside to make sure no heat escapes.
Portability is an issue that smoker users often face, but not with this model. It is comparatively light in weight and comes with sturdy wheels at the bottom that resolves the issue of moving the machine from one place to another. To ensure precise temperature control, Char-Griller has added a temperature gauge. Along with that, there are two adjustable dampers that really helped me in maintaining the airflow. Lastly, the removable ash pan made it so easy to get rid of all the ash after I was done using the smoker.
Pros
Triple walled steel body
Protective coating
Strong wheels
Folding rack
Wide temperature range
Built-in temperature gauge
Cons
Only suitable for small families
The wide temperature range of this model makes it perfect for both smoking and grilling your food. In addition, it offers a decent cooking space of 441 square inches, which is perfect for small families. Considering the low price tag of this model, I would say it is a steal.
6. Z Grills Wood Pellet Grill & Smoker (ZPG-L6002B)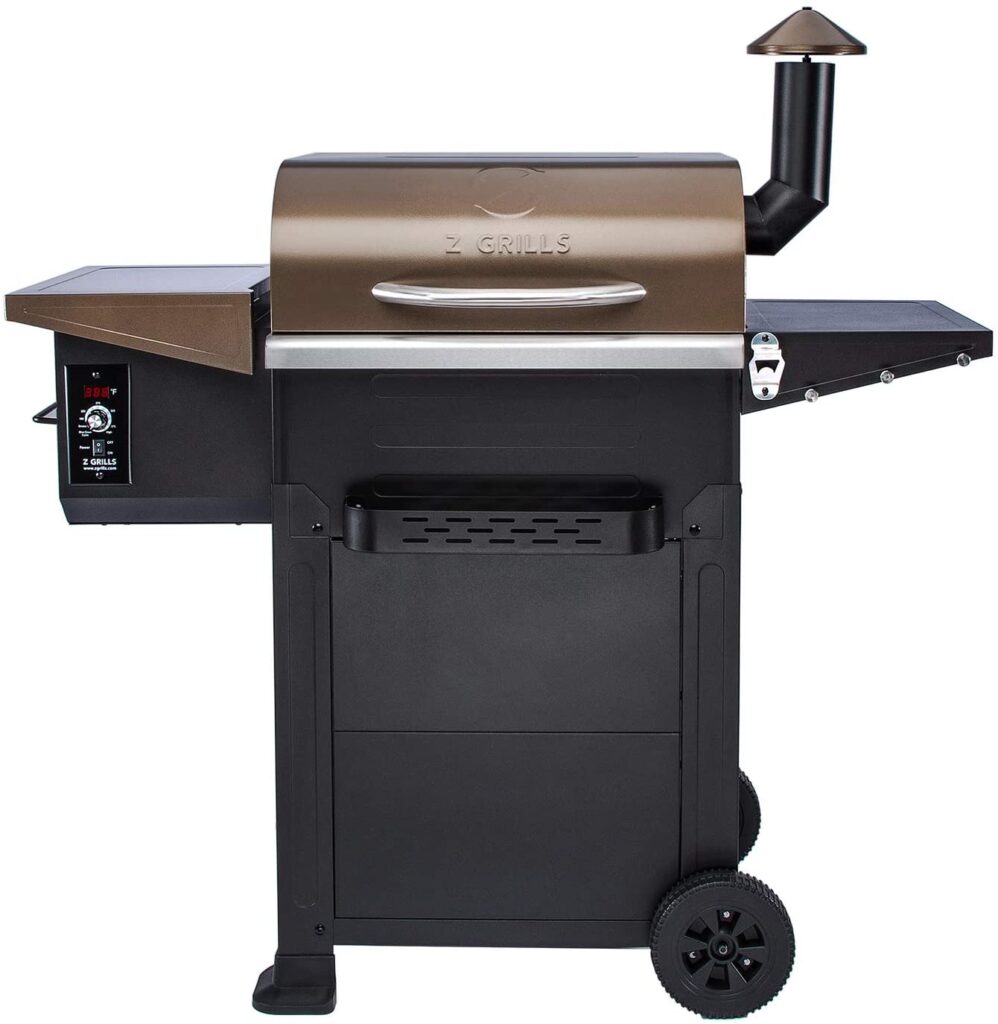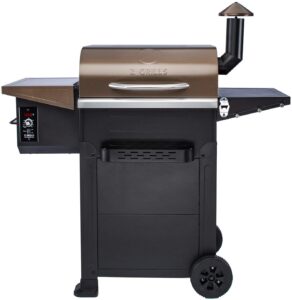 This wood pellet smoker and grill combo are going to take care of all your grilling needs. It has been manufactured with stainless steel, so you can keep your hopes high with this one. It is highly resistant to corrosion, and the bronze exterior gives it an appealing look.
The star of the show feature of this model is its Wifi control system. All you need to do is download the app on your phone, connect your phone to the grill, and you can literally operate it from anywhere. Along with that, it has an automatic feed system that keeps providing the grill with pellets. No need to stand out in heat and sweat! It comes with two heat probes that let you do two smoke jobs simultaneously.
If you are not impressed so far, then let me share one of the finest features. For searing, the temperature goes up to 1000°F. For grilling, smoking, and baking, it goes from 180°F to 450°F. The cooking area of this model is 694 square inches, so you can prepare a meal for 4 -5 people in a single go. Other nifty features include a folding shelf, sturdy wheels at the bottom, and a 10 lb hopper capacity. On a single feed, this smoker and grill can operate for up to 10 hours!
Pros
Advanced Wifi technology
Auto pellet feed system
6-year warranty
Electronic ignition
Digital control system
Easy to operate
Cons
Takes a while to assemble
If you do not mind assembling the unit yourself, then spend your money on this one. It is a bit more expensive than the rest in the market. However, the advanced digital features and the Wifi technology will bring so much ease to your life that makes it worth the investment.
7. Char-Broil The Big Easy TRU-Infrared Smoker Roaster & Grill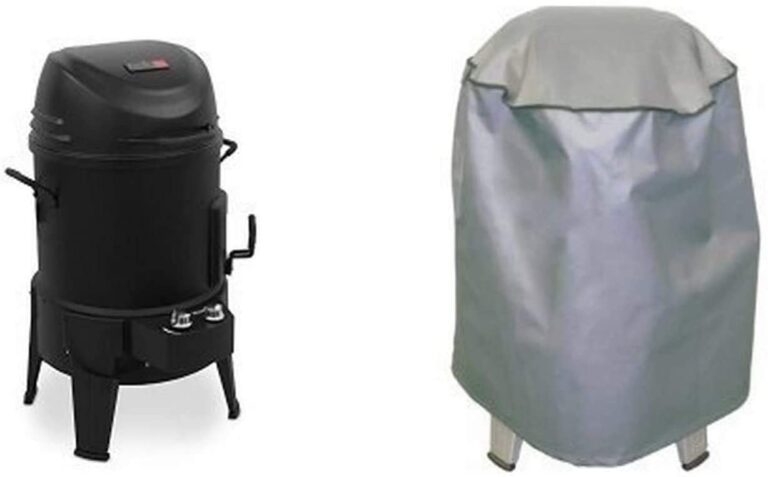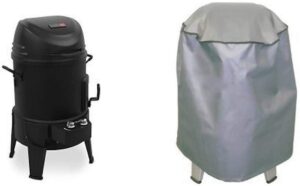 This smoker and grill of Char-Broil is comparatively smaller in size but do not underestimate its functionality. This is a gas-fueled smoker; it operates on propane, so forget all about struggling for hours to start a fire with charcoal. Instead, just connect the propane tank to the smoker, and with the help of an automatic igniter, it will be up and running in a few seconds.
It comes with a smoker box, where wood chips are added to induce the flavor of smoke into your food. This boy is capable of smoking, roasting, and grilling. It offers a cooking area of 180 square inches and can hold up to 25 lbs for roasting and smoking. In addition to that, it is equipped with Tru infrared technology that makes sure the heat is distributed evenly across the grill.
It comes with a cooking basket that has multiple levels. This comes in handy when you need to cook more than one food at the same time. In addition, the body of this model has been constructed with cast iron which is not only sturdy, but if it is seasoned properly, it also has non-stick properties. All in all, this is a good purchase for those with small families.
Pros
Cast iron body
Tru infrared technology
Gas-powered grill
Electric igniter
Multiple level cooking basket
This model of smoker and grill is best for those who need a small machine to take upon their hike. Even though it is small in size, it is capable of grilling, roasting, and smoking meat perfectly. In addition, the sturdy, nonstick body will not get damaged after a couple of uses.
Buying Guide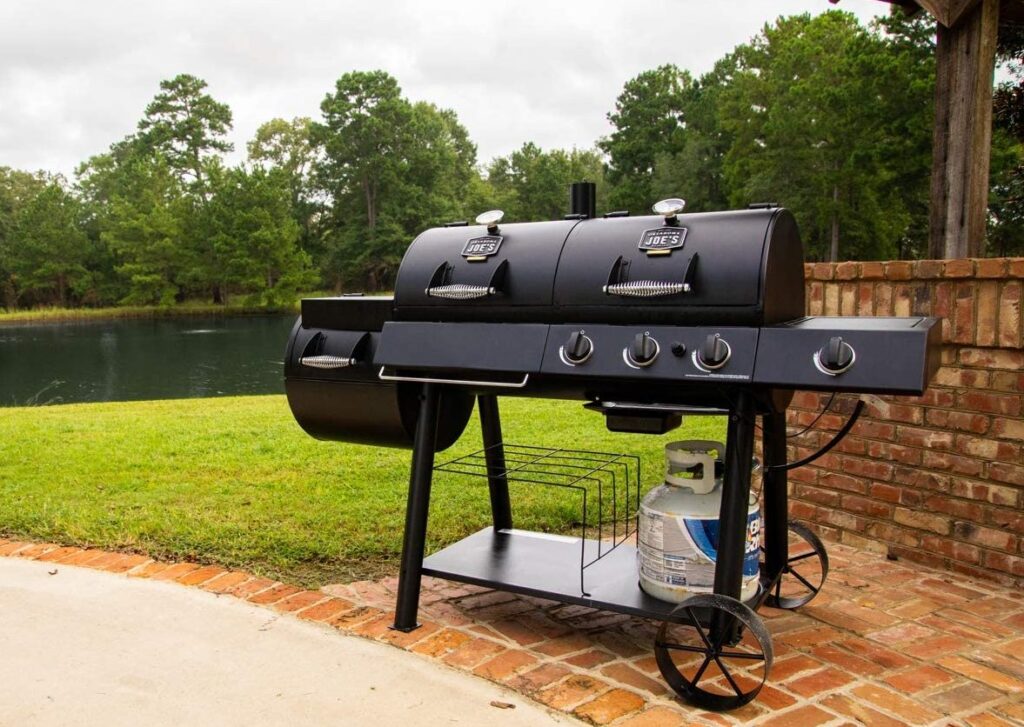 Purchasing a smoker and a grill separately is not feasible for everyone. Firstly, buying two machines would cost you an arm and a leg because these things are expensive. Secondly, they take up a large amount of space, so two machines mean double the amount of space in your garage! So invest your bucks in one of the best 7 smoker grill combos that I have shared with you in this article, and thank me later!
However, before you splurge all your money on a model, make sure it is the ideal one for you. There are few ways to know whether a model of smoker grill combo is good for you or not! I am going to share a few tips with you that will help you narrow down the best of the best!
Construction Material
This goes without saying; the material used in the construction of a smoker and grill is of utmost importance. The ideal material for a smoker and grill is iron or stainless steel, as they are strong enough to not die after a couple of uses. Another perk of iron or steel is that they have excellent insulation properties. Hence, make sure high-quality steel or iron has been used in the construction of the model that you are eyeing.
Type Of Grill And Smoker
There are many types of grills and smokers available in the market. The various types include charcoal-powered smokers and grills, gas-powered, wood pellet smokers, electric smokers, and offset smokers. Each has its own unique perks and features, so before you spend your money on a model, you should know which properties you want from your smoker and grill combo. Then, make sure to go for the type of model that offers all those features.
Cooking Space Required
This is one of the most crucial factors that may make or break the deal. If you know beforehand that you are going to use the smoker for cooking large portions of meals, then spending your money on a model with low cooking space will be a complete waste.
Every model offers a different amount of cooking area, depending on its size. For small families, a smoker with 200 square inches of cooking space is more than enough. However, if you will cater to 4 – 5 people, then go for a model that provides 600 – 700 square inches of cooking space.
Extra Perks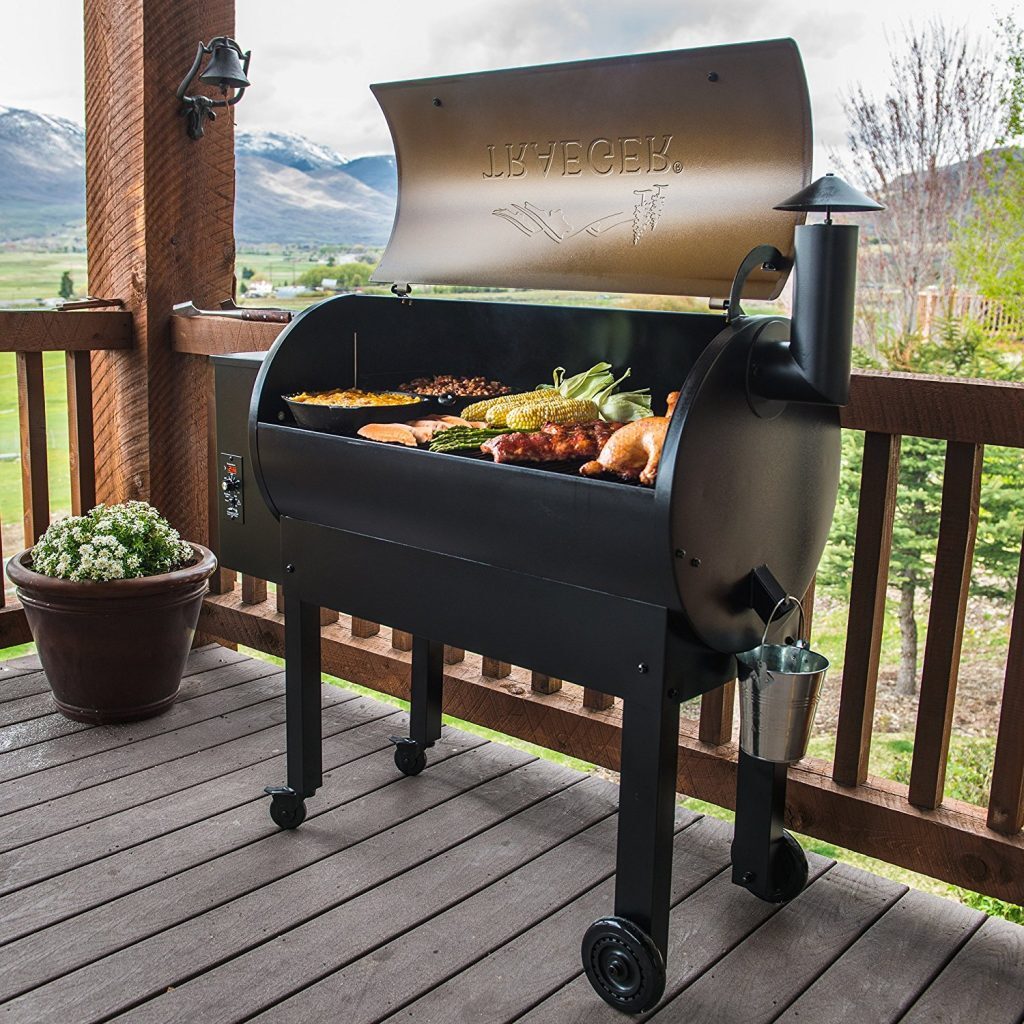 If a model brings extra perks such as Wifi connectivity, or a digital control system to the table, it adds extra stars to the entire package. A digital control system allows you to manage the smoker and grill with ease. With electric ignition, you will be able to turn your smoker on in a couple of seconds.
Along with that, with the help of Wifi connectivity, you will be able to control the temperature of the model through your phone, with just a single tap! Another extra perk that you should look for is a removable ashtray or charcoal pan! This may not sound like a big deal, but when you are done using the machine and need to clean it, a removable ashtray will come to your rescue and ease your job to a greater extent!
Warranty
Smokers and grills are not a flight investment; they require a hefty sum of money. This is why it is of utmost importance that the model you are going for should come with a warranty from the manufacturing company. When a machine has a manufacturer's warranty, it shows that they have faith in their product, and in case of any malfunction, you can get your money back!
Conclusion
A smoker grill combo not only saves you money but also saves storage space in your garage. Now that you know which models of smoker grill combos are in the lead, it is time for you to select one of them for yourself. If you are still conflicted, then here are my three recommendations.
18-1/2 in. Classic Pit Barrel Cooker Package comes with a sturdy, steel body and gives a large cooking space.
Camp Chef 24 in. WIFI Woodwind Pellet Grill & Smoker It's a pellet smoker and grill that comes with advanced features and Wifi technology.
Royal Gourmet CC1830FC Charcoal Grill Offset Smoker offers a large cooking space at a very affordable price.
Check out these grills from Amazon also: