So you've got a brand new grill and you can't wait to fire it up. What better way to break in your new grill than to have some juicy ribs sizzle on it? You definitely don't want the first time around to be disappointing. With this guide, you can cook the most delicious ribs the first time around. Start with a bang, and you'll never hit a low.
Preparing Ribs for the Grill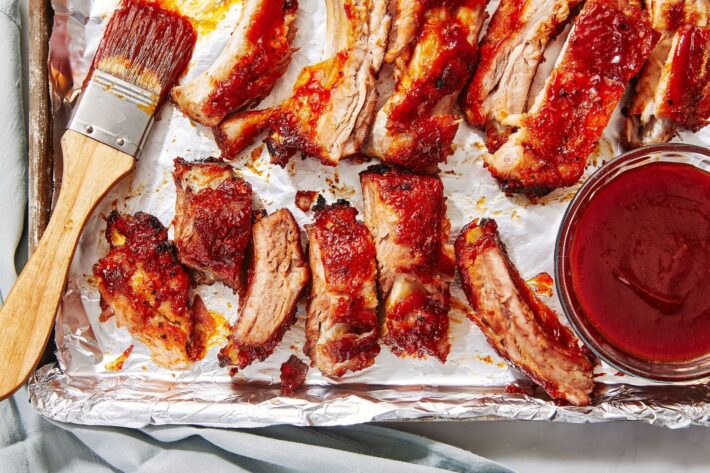 Clean the rib: take your meaty ribs out of the packaging and place them so that the reverse side of the rib is facing up.
Find the membrane and pull it off slowly off the back of the rib. We do this so that our ribs are juicy and not chewy.
Using a knife, you're going to want to trim off all the excess fat, so that you can have an evenly cooked rib that is not burned up on the side and has a consistent texture.
Don't worry about the waste! These pieces can be used to make a stew later.
The 3-2-1 method
Use this method if you've really got the time, patience, and dedication to cooking worthwhile ribs. The rules are – you first slow cook the ribs for three hours. Then, you wrap them in foil and cook them again for two hours. And finally, they're glazed with a sauce of your choice and put back on the grill for an hour.
This allows them to keep their flavor soaked in, and because you will be intervening and adding a little extra at every step, the ribs don't char or dry out.
Cooking Time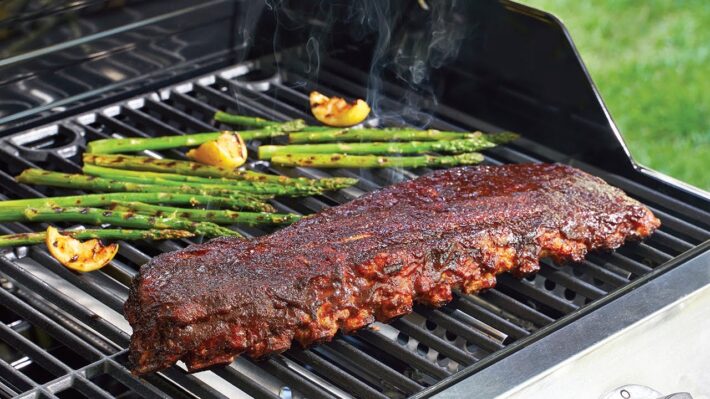 Depending on the method you use to cook them, your ribs can take anywhere between 1.5 hours to 6 hours. You can quickly cook them in a couple of hours if you're running late for your Sunday barbeque, or you can take your time and knock back a couple of beers with your friends around a bonfire as you wait longer for the ribs to slowly grill to perfection.
Cooking Ribs on the Grill with Foil
There is no doubt that wrapping them in foil will enhance the end result. There are multiple advantages to doing so. When you wrap the ribs in foil, it prevents them from soaking up too much smoke that causes them to get fried up. The meat is better able to retain moisture and comes out with a delicious-looking color.
The foil also speeds up the cooking time. Although, don't wrap the ribs in foil from the beginning. It's usually preferable to wrap them up when the ribs are cooked halfway through. This allows the meat to be cooked evenly, absorb just enough flavor from the grill, and still be perfect.
The Best Time to Flip the Ribs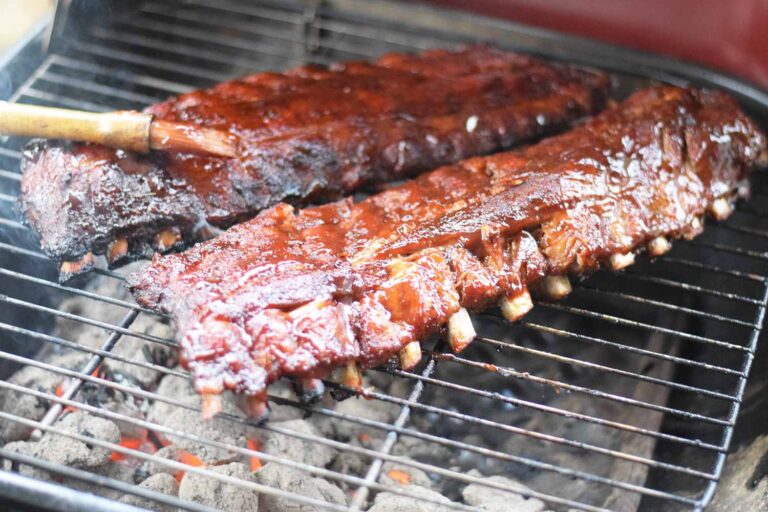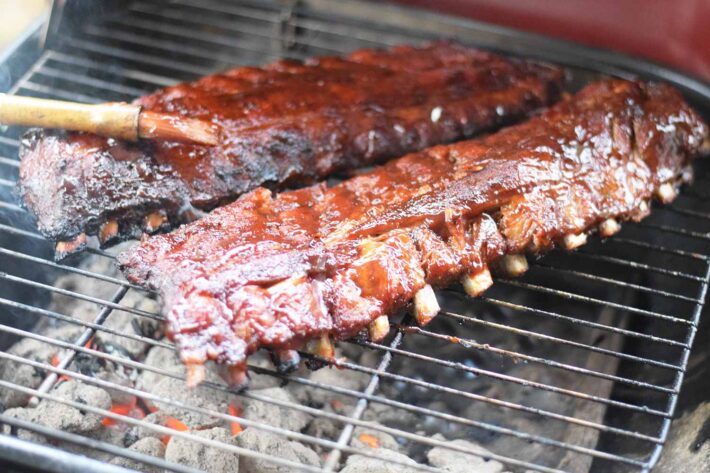 Start out with the back of the ribs, keep the heat low to slowly cook the ribs.  The ribs need to be grilled with an indirect heat of about 250F to 300F.
You might want to eyeball your first flip since getting the grill started and getting the temperature right might need a little time, especially if it's your first time using it for ribs. But once you are sure that one side has started to cook, start flipping them over every 20 minutes.
Use the timer on your phone or a traditional one if you're more old-school. Your ribs should probably be done in about 2 hours if you're cooking them the simple way and not going anything fancy.
Keeping the Ribs Moist
The one thing about cooking ribs is that you should not be in a hurry. We know they're delicious, we love them too. They get you licking your fingers clean, but for as tasty as they require, they require an equal amount of patience.
If you try to speed up the process and try to turn up the heat, the ribs are going to lose their moisture and dry up in the blink of an eye. That's why we say: cook them slowly on a low grill temperature. Wrapping them up in foil is also going to help.
As with other alternatives, you can brine and marinate them beforehand so that they soak in some juice and have a little more strength to them. You can place a water-filled pan in the cooking chamber. This prevents the ribs from drying out and also helps you maintain a consistent temperature of the grill.
You can also spritz the ribs as they're cooking with some apple cider vinegar and water, or if you want, you can pour the same beer on the ribs as the one you are enjoying. This brings together your entire night and creates a perfect taste palette for you.
Checking Whether the Ribs Are Done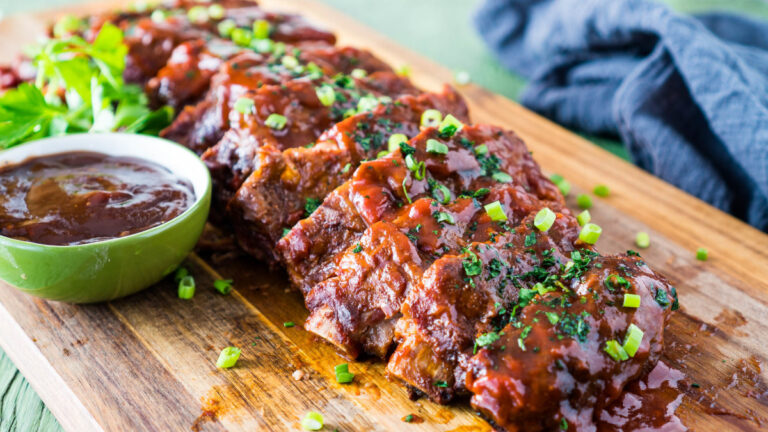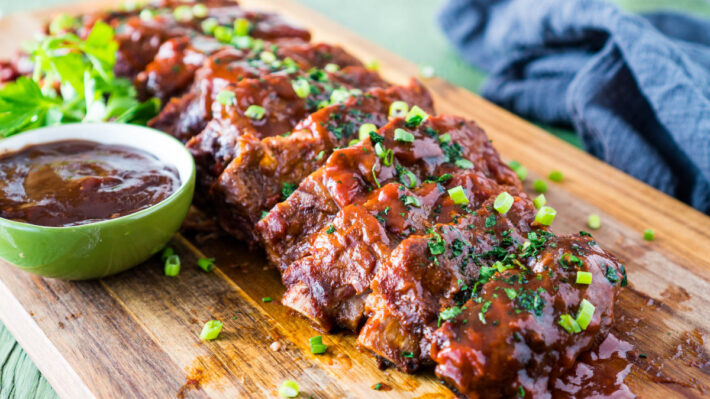 When the ribs are perfectly done, they should (big surprise) look done. They should be easily pierced by a fork. The ribs should feel tender, yet juicy. But, they shouldn't have gone so soft that they fall right off the bone. That's a disappointment to everyone!
Break off one rib, and check the colors of your meat. If it's pink on the outside but white on the inside, you've got it perfectly ready. If they're too pink, they're probably not done yet.
Final Words
You might think that grilling them with the bbq sauce on will help them soak in the flavor, but you should wait till the end. But, the sauce will burn and create a layer of char around your ribs.
Trust the flavor of your meat. Don't add in too much flavor, add a little less than you think you want. You don't want your spices to overpower the flavor of the delicious meat, if you add too many spices, you'll not hit the right umami flavor.
Do not, in any case, no matter what, boil your ribs before grilling them. That takes away from the true experience of cooking ribs on a grill. It's not delicious if you don't grow hungry while waiting!